Stationary Tools: Fein Slugger GXE Series Deburring Machines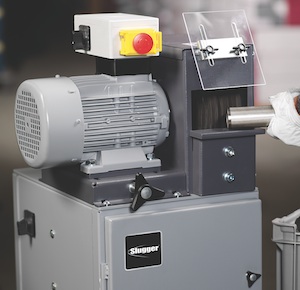 FEIN Power Tools, Inc.'s Slugger GXE deburring machine is extremely fast and highly versatile when equipped with Slugger's wide range of brushes and extremely effective in deburring, putting the finishing touches on tubes, profiles and flat stock. It can also be equipped with polishing wheels.
For safety, the GXE has an eye shield, integrated circuit breaker for motor protection and emergency safety stop switch. For convenience and timesaving, it has a tool-free adjustment of the gap between the wire wheel and workpiece table in addition to a height adjustable workpiece support. The deburring machine has a 3 hp motor that operates at 1800 RPM. Its maximum wheel diameter is 10" X 2-3/8" and weight is 71 lb (32 kg).
For stability, there are two steel bases available for floor mounting the GXE deburring machine. The GIXBE base has a dust extraction feature for efficient air cleaning. It has a spark
resistant collection box for metal chips or it can be hooked to an external collection system. The machine base with extraction is rated at 370W, 440V having a maximum vacuum of 2.65 mbar. It is12"L x 23" W x 27-1/2" H and weighs 128 lb (58kg).
The GIXS machine base without extraction is 12" L x 10-1/2" W x 30" H and weighs 40 lb (18 kg). The GXE deburring machine can also be bench mounted which will require being hooked up to an external dust collection system.
FEIN Power Tools, Inc.: 412-922-8886