Kyocera 5G Smartphones with Walkie Talkie Feature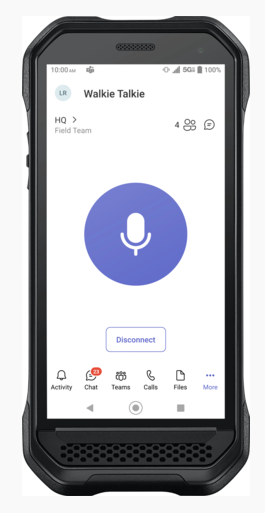 Kyocera, a North American leader in rugged mobile solutions, has entered into an agreement with Microsoft to integrate the Walkie Talkie application in Microsoft Teams on ultra-rugged 5G Android smartphones. Kyocera's DuraForce Ultra 5G and DuraSport 5G, both available on the Verizon 5G network, feature a dedicated Push-to-Talk (PTT) button easily programmed for seamless, instant voice communication using the Walkie Talkie app in Teams.
The Walkie Talkie app in Teams is available for free to users of Teams with an active Microsoft 365 subscription. Teams also offers flexible shift scheduling and seamless task management for frontline workers who operate in remote, often harsh environments such as construction, manufacturing, transportation and more.
Kyocera's rugged 5G smartphones are optimized for PTT communication with powerful batteries, loud audio, and a variety of PTT accessories. Both DuraSport 5G and DuraForce Ultra 5G are certified MIL-STD-810H, engineered to withstand drops, dirt, water immersion and the elements, and can be washed and sanitized, making them ideal for remote workers.
Walkie Talkie in Teams is built on the tier-D compliant Microsoft 365 cloud, ensuring that Walkie Talkie communications are secure and only authorized members can access each channel. The app operates over cellular or Wi-Fi and prevents crosstalk and eavesdropping, unlike traditional radios which are susceptible to eavesdropping and interference from outsiders on the same frequency. With Walkie Talkie in Teams, users don't have frequency static that can be found in analog devices, and they can easily switch between channels and groups.
Teams provides frontline workers with a single destination for collaboration and communications, with tools like messaging, file sharing, calling, calendaring, tasks, and PTT all in one place. With Kyocera's 5G smartphones, remote workers can hold secure meetings, video calls, document collaboration and use built-in cloud storage, all powered by the most advanced 5G network as well as Wi-Fi. Users have secure, instant access to always-on voice chat and multimedia sharing for time-sensitive information through the cloud.
Providing seamless collaboration, Walkie Talkie in Teams is always available, even when devices are locked or busy with other applications. Teams is available for download from the Google Play store to all Kyocera DuraForce Ultra 5G and DuraSport 5G users with an active Microsoft 365 subscription.
"Frontline workforces – those who spend most of their time away from a desk, either on jobsites or in factories — have grown exponentially in recent years, and reliable technology tools are crucial to their success," explained Vipul Dalal, Divisional Vice President of Kyocera's Communications Equipment Group.
"Our rugged 5G smartphones are designed for workforce productivity in harsh, noisy environments. Walkie Talkie in Microsoft Teams on Kyocera smartphones provides secure, instant communication to workers on a noisy construction site, between truck drivers or in a busy warehouse – with virtually no lag time."
Kyocera Business Solutions
This new relationship with Teams is part of Kyocera's Total Solution, which uses technology to help improve business productivity including rugged devices and service support along with applications and accessories from a large partner ecosystem. Dedicated support lines, overnight advanced device replacement, custom provisioning, custom repair, lifecycle management, and more help our valued business customers.
The company's rugged devices, which incorporate more than a decade of rugged device research and development, offer a lower total cost of ownership (TCO) than non-rugged devices by holding value for a far longer period: they cost less in repairs and replacement, do not require expensive aftermarket cases, and – most importantly – function reliably in critical environments, ensuring that business continues without interruption.
About KYOCERA
Kyocera International Inc.'s Communications Equipment Group (CEG) is the headquarters for Kyocera wireless devices in the Americas. With a history of quality and innovation delivering many "firsts" to the U.S. market, Kyocera is the leader in rugged mobile solutions.
Launching more than 100 waterproof and rugged mobile devices globally over the last 10+ years, Kyocera strives to offer rugged, reliable technology as an integral part of a total mobile offering: combining MIL-STD-810H-compliant ruggedization and enterprise-grade security with a partner ecosystem, industry-specific applications and innovative accessories.
Working with leading service providers, Kyocera has created a "Total Solution" offering that helps deliver a significantly lower total cost of ownership to a wide range of industries such as public safety, transportation and construction. White glove services including overnight advanced replacement, custom provisioning, repair and more, help improve productivity for business customers. When it comes to blending performance, durability and support, Kyocera's rugged mobile solutions are in a class of their own.
For more information, visit www.kyoceramobile.com