LENOX Carbide Tipped LAZER CT Saw Blades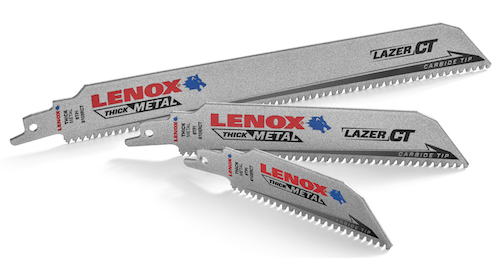 Difficult to cut metals including stainless steel and cast iron, and demolition of tough nail-embedded wood are challenging applications solved by two new carbide tipped reciprocating saw blades from LENOX, the LAZER CT and DEMOLITION CT.
"As carbide blade technology and blade performance continues to advance, new applications are becoming possible. Our focus on blade durability and performance has allowed us to extend and enhance our product offering in the recip category – which means our customers can continue to focus on increasing jobsite performance instead of tool limitations," said Matt Lacroix, Director of Product Marketing for LENOX.
New LENOX LAZER CT Reciprocating Saw Blades feature high performance carbides that are welded to increase durability and prevent tooth loss. LAZER CT delivers up to 10X the life* and fast performance cutting of applications such as stainless steel.
A tall blade profile facilitates straight cuts in demanding metal cutting applications like stainless steel and cast iron. The blade also delivers advanced performance when cutting non-ferrous metals, ferrous metals with a variety of thicknesses and threaded rod.
LAZER CT is available in 4", 6" and 9" lengths to cover the most popular cutting applications.
The next generation of LENOX DEMOLITION CT Reciprocating Saw Blades are designed for tough, nail-embedded wood applications. Each tooth is precision ground on multiple surfaces, creating optimum angles that allow the blade to cut through nails with ease.
The thick blade profile provides increased durability and greater control to deliver up to 10x the life**. The new DEMOLITION CT blades are available in 6", 9", and 12" lengths.
*vs. standard LENOX Bi-Metal reciprocating saw blades cutting stainless steel.
**vs. 6TPI standard LENOX Bi-Metal reciprocating saw blades cutting wood with nails.
For more information, visit http://www.lenoxtools.com/pages/lazer-ct-carbide-tipped-reciprocating-saw-blade.aspx