Bosch All-Purpose and HP Laminate Carbide Jig Saw Blades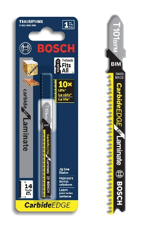 The days of having to change jig saw blades in the middle of a job for fear of hitting a nail or a screw in wood or laminate are over. Bosch Carbide for All-Purpose and Bosch Carbide for High-Pressure Laminates (HPL) jig saw blades are tough enough to withstand a nail hit and keep going – no change-out required.
A Bosch-exclusive carbide brazing technology delivers 10X life versus standard bi-metal blades.So one jig saw blade really does do it all in tough laminate, wood with nails and hard materials.
Premium Bosch Carbide for All-Purpose jig saw blades rely on Progressor Technology that is a combination of aggressive small teeth that work together with larger teeth to increase speed and life. The blade's exaggerated tip ensures easy plunge cuts. In Bosch Carbide for HPL jig saw blades, two rows of counter-directed teeth arranged at different angles provide clean cuts in difficult-to-cut, brittle materials on both sides of the cutting surface.
Jig saw blade speed is further optimized when the tool's pendulum movement is accentuated by a tapered-ground back design. A thin blade kerf reduces material extraction, reduces heat and adds to performance.
"Bosch carbide jig saw blades demonstrate how advanced technology and new manufacturing capabilities can benefit the professional user," said Prerna Srivastava, accessories product manager, Robert Bosch Tool Corporation. "These blades speak to Bosch's leadership in jig saw blade development and manufacturing. But in the end it comes down to the value for the user. When you're in the middle of a job and you don't have to stop to change blades, that's greater productivity."
The line of both Bosch Carbide for All-Purpose jig saw blades and Bosch Carbide for HPL jig saw blades are sold in single and three packs.
To learn more about the Bosch carbide jig saw blades, visit www.boschtools.com or call 877-BOSCH-99. Check out www.bethepro.com for additional tips and videos.