Festool Diamond Saw Blade for Fiber-cement and TS Track Saws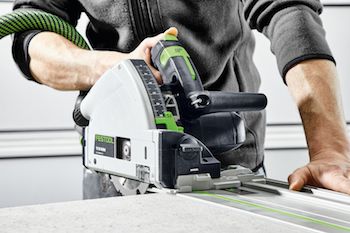 Festool USA and Festool Canada recently introduced the PCD Diamond Saw Blade for the TS55 REQ and TSC 55 REB (cordless) track saws. When used with a TS track saw and CT dust extractor, the entire cutting system provides highly portable, near-dust free, precision performance.
The PCD Diamond Saw Blade was specifically designed and built for cutting gypsum bonded chipboard and fiberboard, commonly used materials which are used for exterior siding and interior substrates. The new PCD Diamond Saw Blade from Festool is available now.
"Because Festool designs nearly all of its tools to be used with its CT Dust Extractors, the new PCD blade provides incredibly precise, near dust-free performance when sawing cement-based material," says Leo Zirkler, Vice President of Marketing at Festool. "Superior results, blade longevity and a much cleaner jobsite are just a few of the benefits."
PCD Diamond Saw Blade features and benefits include:
Cutting with minimal dust — Near dust-free performance when used with a CT Dust Extractor.
Precise results — Accurate, straight, smooth cuts can be made quickly and easily.
Longevity and durability — The PCD (polycrystalline diamond) Diamond Saw Blade is engineered and built to provide exceptional service life.
For more information, please go to Festool USA or Festool Canada.