Larson Electronics Mini Tower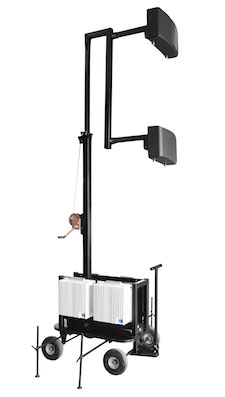 Industrial lighting specialist Larson Electronics has added to their massive line of customized towers with the release of a seven to twelve foot crank up mini antenna cart equipped with a wheeled base to allow for easy maneuverability throughout a work space.
The WAL-ML-SAWC mini tower from Larson Electronics is an ideal solution for operators who need a fully portable, yet easy to operate system for lighting and other electrical equipment. This mini tower features a fold over and extendable tower assembly that can be adjusted from 7 to 12 feet in height for maximum coverage.
A single pin locks the mast in a vertical position while a single hand crank allows operators to easily raise or lower the tower as needed. The base of the tower is fitted with four solid wheels to allow for easy positioning throughout a work space. Four slide-out outriggers provide stability for the cart when equipment is elevated.
The base of the tower provides enough storage room for excessive coax and power cables during transportation. The pivoting handle on this cart allows users to maneuver the cart regardless of the position of the handle and it is locked into place by a single pin when not in use.
The tower is constructed of heavy gauge steel for durability, and a tough powder coat black finish provides protection against rust and corrosion.
"Larson's new crank up mini tower is just another example of a challenging project that was overcome at the simple request of a customer," said Rob Bresnahan with Larsonelectronics.com. "This mini tower provides operators with an easily deployed system that can provide large scale coverage."
Visit www.Larsonelectronics.com or call 1-800-369-6671 for more information.