Rockler Expands Bandy Clamp Lineup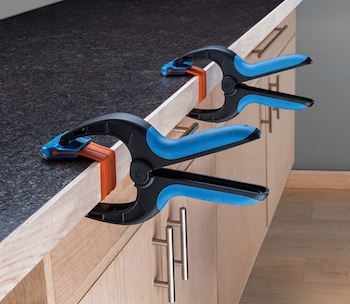 Due to the wide-ranging success of the original Bandy Clamp introduced earlier this year, Rockler Woodworking and Hardware has introduced two new sizes of this popular, revolutionary work accessory.
The two new sizes, Large Bandy Clamps and Small Bandy Clamps, provide a broader range of clamping solutions for edge banding and many other clamping needs.
Large Bandy Clamps feature a jaw opening that will fit the edge of standard 2x lumber (2x4s, 2x6s, etc.), which makes them useful for edging thick tabletops, countertops and other projects involving thick stock.
Small Bandy Clamps fit where others can't, adding convenience to small-scale assembly projects involving thin or delicate stock, such as in luthier work.
Each Bandy Clamp features a band made of tough, tear-resistant rubber that has three extra-strength splines molded into it. Large, anti-slip clamp pads on pivoting jaws accommodate clamping at different angles with full pad contact. Neither the clamp pads nor the rubber band will mar the workpiece, allowing users to clamp a variety of contours and surfaces without worry.
All Bandy Clamps provide fast, one-handed clamping. The clamping pressure is created simply by squeezing the clamp open and pushing the built-in flexible rubber band against the profile or piece being clamped until the desired resistance is achieved.
Large Bandy Clamps (54141) are priced at $24.99 per pair, Standard Bandy Clamps (54258) at $19.99 per pair, and Small Bandy Clamps (57823) at $14.99 per pair. All can be purchased at Rockler Woodworking and Hardware stores nationwide, Rockler.com, or from the Rockler catalog. For store locations or a free catalog, visit www.rockler.com or call 1-877-ROCKLER.