STANLEY FATMAX Professional Water Hose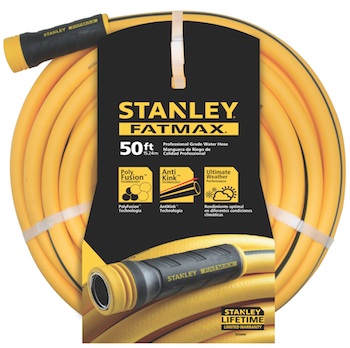 Bond Manufacturing launches the STANLEY FATMAX Professional Grade Water Hose.
The average industrial hose in today's market can be a chore to work with, as constant kinking and unmanageable weight becomes a hassle. As the first in a series of new watering products, the STANLEY FATMAX Professional Grade Water Hose seeks to solve those problems with proprietary technologies.
Unlike any other hose on the market, this hose features PolyFusion technology, which is a specific compounding process combining Polyurethane and PVC, making the hose lightweight and easy to work with. The AntiKink technology provides ultimate elasticity to conveniently keep kinking at a minimum.
This hose is scratch and abrasion resistant, allowing it to be easy on surrounding surfaces. It maintains its flexibility in -15 degrees, so no matter what the weather is, it will always perform. The STANLEY FATMAX Professional Grade Water Hose is also drinking water safe and will be the only hose you'll ever need, guaranteed for a lifetime. It is available in 25-, 50-, 75-, 100- and 150-foot lengths for MSRP $29.99 to $99.99.