Lind Equipment Beacon LED Tower Light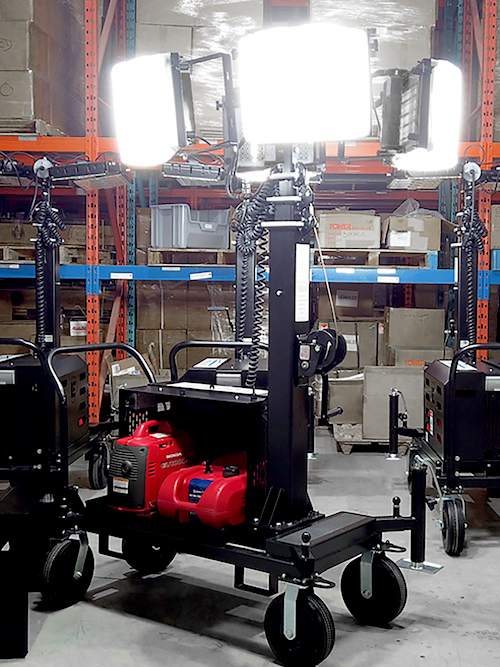 Lind Equipment's new All-In-One Beacon LED Tower provides all the functionality of three separate lighting assets in a single package.
A single Beacon LED Tower can be used as a generator powered light tower, as a no-glare diffuser light tower and as an electric powered light tower.
The All-In-One still boasts all the same features of the previous models: tough and durable exterior, powerful 30,000 lumen weatherproof light heads, IP65 wet-location rated usability, fits through man-doors, and two towers can fit in the back of a pick-up truck with ease. All these benefits plus much more in a single asset.
What separates the All-In-One Beacon LED Tower is that contractors no longer need to own three separate towers for different types of jobs. This full-power light tower can illuminate remote construction sites with an onboard generator as small as 1000W.
The Beacon LED Tower has proven its durability and ruggedness on construction sites all over North America, including in the far north through to the desert.
For areas that require diffused, no-glare lighting, the All-in-One can do just that with clip-on diffuser frames. Each frame attaches, and detaches, to the light head in under one minute. Lastly, the All-In-One tower can operate quietly without any fumes from an external power source – ideal for indoor applications.
The no-glare diffuser frames are the feature that makes the All-in-One Beacon LED Tower extra valuable for concrete and road work. Traditional balloon lighting produces light in all directions – including straight up. The All-in-One Beacon LED Tower uses separate diffuser frames for each light head. This provides contractors with the ability to adjust the light heads in the direction light is actually needed.
Also, since the diffuser frames are removeable, contractors can attach them to light facing into traffic or public areas for no-glare lighting, and not attach them to the light heads facing into the construction work for additional bright light. The no-glare diffuser covers are designed to be easy on the eyes and, although still providing bright light, anyone can stare at the light straight on without difficultly.
Once the diffuser needs are completed, the frames simply come off as quickly as they went on. Stack them on top of one another with the covers still on and place into our carrying case. These features are so valuable that the All-In-One Beacon LED Tower has won its first innovation award, the 2019 Rental Equipment Registry award, prior to the official launch!
"Our customers have been asking us to come out with a diffuser/balloon light tower for a long time. But as usual, we thought that there was a better way to do it. Once the word got out about the new All-In- One concept, that's all contractors and agents have been inquiring about." Brian Astl, President of Lind Equipment.
Lind Equipment is a leading manufacturer of portable LED lighting, hazardous location and industrial work lighting, portable power, static grounding, and GFCI products. With over 70 years of experience providing products for industrial and hazardous locations, Lind Equipment is trusted on some of the toughest jobsites in the world. Lind's expertise and robust design makes it the supplier to various militaries, construction sites, oil refineries, mining companies, and general industry. Lind's extensive line of portable electrical products can be seen on its website at www.LindEquipment.net.