Lubrizol FlowGuard MultiPort Water Fitting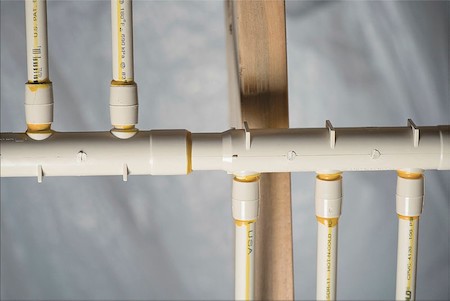 The Lubrizol Corporation, in partnership with Genova Products, today expanded its line of cost-effective and easy-to-install FlowGuard Gold pipes and fittings with the addition of the new FlowGuard MultiPort. The FlowGuard MultiPort provides plumbers and developers for multi-residential buildings with an innovative solution for mini-manifold plumbing system designs with FlowGuard Gold CPVC pipe and fittings.
When used with efficient system designs, a FlowGuard MultiPort mini-manifold system can reduce water and energy waste and contribute to green building certifications. With new environmental codes and standards encouraging reduced water volume between the hot water source and fixture, the FlowGuard MultiPort enables designs that minimize the entrained water and maximize points earned under both LEED and NGBS rating systems.
Previously, remote manifold or mini-manifold system designs were only possible using PEX plumbing systems, which leading PEX manufacturers limit to a maximum velocity of 2 feet per second. in recirculating systems and can be subject to premature failure due to chlorine-induced degradation.
With FlowGuard MultiPort, builders and plumbing contractors can now use these energy-efficient mini-manifold system designs with FlowGuard Gold CPVC pipe and fittings. This enables mini-manifold systems that operate at 8 to 10 feet per second without the risk of chlorine-induced degradation.
The compact FlowGuard MultiPort is designed to be placed on a 1-inch FlowGuard Gold CPVC main line or hot water recirculating line and features three individual ½-inch spigot outlets. The flow-through outlet accommodates either a one-inch FlowGuard Gold CPVC spigot or a ¾-inch FlowGuard Gold CPVC socket.
For configurations requiring more than three outlets, multiple FlowGuard MultiPort fittings can be connected in several configurations to support additional outlets, which can serve either the same unit or an adjacent unit in multi-residential construction.
"The FlowGuard Gold MultiPort will help our customers by delivering water more efficiently, but also help us get out in front of upcoming energy code changes that are now set for 2025," says Rob Zagorski, regional manager, west.
The FlowGuard MultiPort fitting is exclusively produced by Genova Products. Contact Dave Knific at Genova Products for information on how to purchase FlowGuard MultiPort (810-744-4500, ext. 268 or d.knific@genovaproducts.com).
For more information on FlowGuard MultiPort and the FlowGuard Gold CPVC plumbing system, visit www.flowguardgold.com