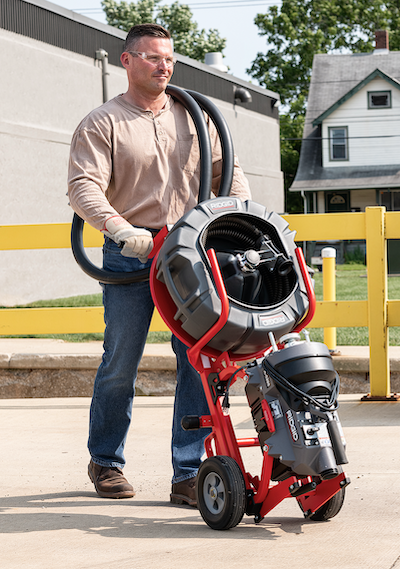 The RIDGID K-5208 Sectional Machine, the most powerful compact sectional machine on the market, just got better with the addition of a new transport cart for easier jobsite maneuvering and storage.
The K-5208 Sectional Machine Transport Cart is designed to reduce plumber fatigue when moving the K-5208 and cable carrier from work truck to jobsite and features an integrated stair climber to minimize body strain while climbing and descending stairs.
The cart can be stored both vertically and horizontally with the ability for the K-5208 to be operated from the cart when in the horizontal position. It also has a wheel lock for enhanced stability when in use or stored.
"Overwhelmingly, when talking to plumbers about the RIDGID K-5208 Sectional Machine, we heard first about how much they loved the machine, and, second, about their desire for a dedicated cart to support it. We're excited to now offer the RIDGID K-5208 Sectional Machine Transport Cart that, along with the already lighter K-5208 sectional machine, will enhance jobsite ergonomics even further," said Brendon Goede, product manager, underground technologies, RIDGID.
The K-5208, weighing 30 percent less than the RIDGID K-1500 Sectional Machine, is purpose-built to cut through the toughest roots with a 3⁄4 HP motor and cable that can spin up to 700 RPM. It's designed for drains 2" to 8" in diameter. It features a tool-less clutch adjustment to quickly switch between 7/8" to 1 1⁄4" cable sizes.
The K-5208 also comes with a Trident Sectional Cable Decoupler for disconnecting cables efficiently and cable feeder with guide tube for easy loading and unloading into an enclosed cable carrier. Infield clutch serviceability minimizes downtime and an enclosed cable carrier and cable feeder enhance cleanliness by reducing exposure of the cables on the jobsite.
The Transport Cart includes the RIDGID Lifetime Warranty.

To learn more about the K-5208 or Transport Cart contact your local distributor, visit RIDGID.com/K5208, or call toll-free: 1-800-4RIDGID.