MK Diamond CX-3E1 Electric Concrete Saw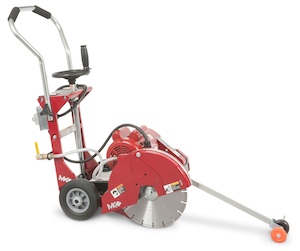 The new MK Diamond CX-3E1 Electric Saw is engineered for indoor cutting where use of a gas powered saw could be hazardous. The 1.5 hp heavy-duty motor provides the necessary power needed to step cut through a concrete slab. The thermally protected 120-volt, single-phase motor operates on a regular 20-amp household circuit.
The CX-3E1 Electric Saw has a 14" blade capacity with a 5-1/2" depth of cut capacity and can cut within 1" of wall. The design allows easy access to the control panel and a heavy-duty 30-amp on/off switch box. With a 1" diameter blade shaft and self-aligning pillow bearings you get accurate cutting and maintenance free operations.
The blade guard mounts on either the left- or right-hand side of saw. The corrosion resistant cast-aluminum blade guard is hinged providing easy access for blade changes and inspection; also allowing the ability to cut into walls.
The built-in water distribution system supplies water to both sides of blade for cooling and dust control. There is a convenient control valve to manage water flow. The saw is both lightweight and compact for easy transport up and down basement stairs. The folding handle bar allows compact transport and storage. An optional 6.4 gallon water tank allows for wet cutting when other water sources are unavailable.
For more information call 800/421-5830 or visit www.mkdiamond.com.