MERIT-AWD-65HP-G All Wheel Drive Concrete Saw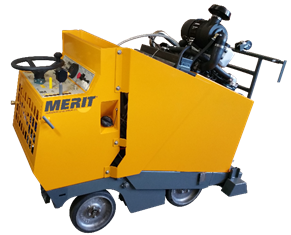 Merit Engineering and Equipment Company proudly announces the first steerable all-wheel drive saw on the market, as well as three new spark-ignited gas flat saws to complement and complete its full line of gasoline-powered saws.
The MERIT-AWD-65HP-G is the first steerable all-wheel drive saw on the market with an innovative patent-pending design that provides superior control and ease of operation when cutting uphill, downhill, sideways on a grade, and radiuses. This saw will debut at the 2017 World of Concrete Show in Las Vegas.
Also launching at WOC is a new, full line of spark-ignited gas flat saws. These models are a great option for meeting all of your EPA and Carb emissions requirements while maintaining horsepower, torque and performance and saving users money. Merit's spark ignited saws now include 14-, 24-, 27-, 38-, 50-, 65- and 87-hp models.
It is an exciting time at Merit. In addition to these new saws, the company recently launched an eStore at www.meritsaw.com/parts.
Visit the Merit family at the World of Concrete (outside at BOOTH O-30748) and don't forget to visit the CSDA Booth for a chance to win a Merit saw, M100-14G PUSH.