M.K. Morse Metal Devil Diamond Edge Cut-Off Wheels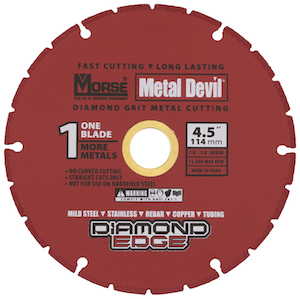 The M. K. Morse Company introduces its latest innovation: Morse Metal Devil Diamond Edge Cut-off Wheels for metal cutting.
With its innovative vacuum brazed technology, this blade allows for the diamond particles to adhere to the surface of the steel core, allowing heat to dissipate fast, resulting in long life and faster metal cutting.
These blades are a safer, longer lasting alternative to traditional bonded abrasives that will result in cleaner work environments and improve cost per cut.
Morse Metal Devil blades offer a cost-effective option for cutting through a broad range of difficult metals. Metals that will include metal studs, structural steel, stainless tubing, rebar and cast iron to name a few.
These blades come in 4-1/2", 6", 7", 12" and 14" for use on high RPM saws such as: angle grinders, circular saws, gas powered saws and abrasive chop saws.
For over 50 years, The M. K. Morse Company has been providing professional quality products and dependable service. Morse offers a wide range of hand tool and power tool accessories, including hole saws, reciprocating saw blades, jig saw blades, portable band saw blades and hack saw blades, as well as industrial quality band saw blades and metal cutting circular saws and blades.
M. K. Morse products are readily available from contractor and industrial supply houses worldwide. For more information, contact The M. K. Morse Company, P.O. Box 8677, Canton, OH 44711, telephone 330- 453-8187 or visit their website at mkmorse.com.