LENOX METALMAX Diamond Cutoff Wheels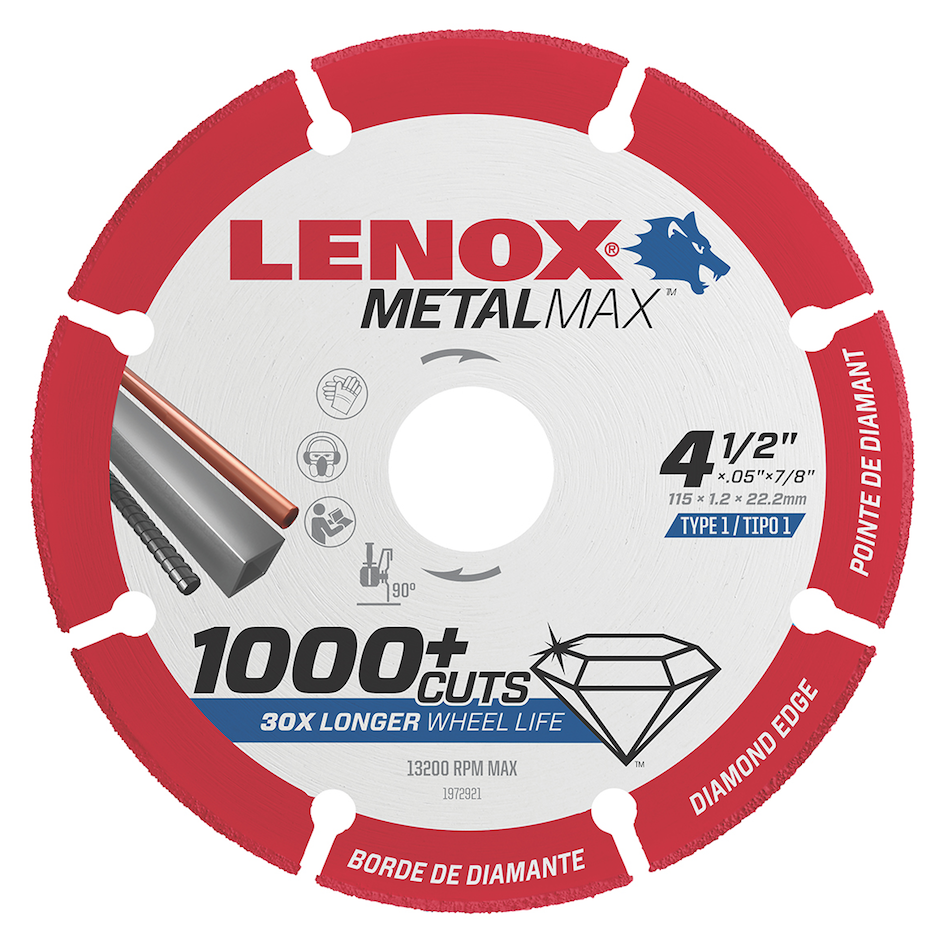 LENOX announces the launch of LENOX METALMAX diamond abrasive, a new alternative to abrasive cutoff wheels for increased durability and smooth, clean and even cuts.
LENOX METALMAX offers a solution for pain points bonded abrasives can bring including diameter retention and less dust residue. Made with metal cutting diamonds bonded to the wheel's surface, LENOX METALMAX is manufactured with a proprietary technology allowing the diamonds to endure high cutting speeds and temperatures while maintaining superior cutting properties.
LENOX METALMAX diamond abrasives deliver 1,000 or more cuts with no need for wheel changes, providing 30 times longer wheel life than thin bonded abrasive cut-off wheels. The solid steel body design reduces the risk of breakage and its diamond cutting edge wheel does not wear away, allowing it to hold its original wheel diameter until the very last cut.
Because LENOX METALMAX doesn't wear out, there is substantial reduction of odor and airborne particles for less dust residue in the workspace.
"For those tradespeople who work with abrasives on a regular basis, it's important for them to have a durable tool," said Matt Lacroix, director, Lenox Tools. "LENOX METALMAX has been created to provide easy handling and control, while providing the durability and precision needed on every single cut."
LENOX METALMAX works in multiple applications, with the same power tools as bonded abrasives and in a wide range of materials including steel, stainless steel, cast iron, rebar, sheet metal, aluminum and non-ferrous metals. LENOX METALMAX includes a complete line with 15 products.
Some of the most common sizes are:
4" thin cut-off wheel, angle grinder
4.5" thin cut-off wheel, angle grinder
7" thin cut-off wheel, angle grinder/circular saw
14" cut-off wheel, chop saw
3" cut-off wheel, die grinder