Gas Engine Equipment: Makinex DPW-2500 Dual Pressure Washer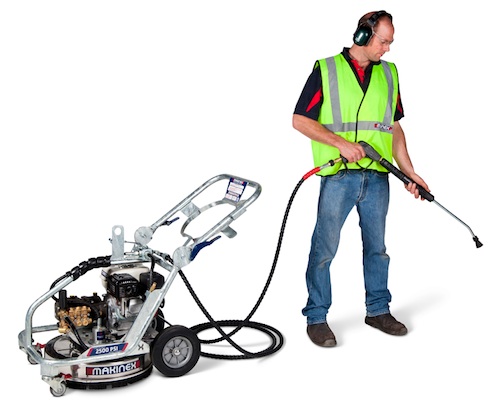 Building on the success of its powerful DPW-4000 surface cleaner, Australia's Makinex Construction Products launches a 2500-PSI model, the DPW-2500.
Offering the same functionality and versatility as the original model, the DPW-2500 combines a rotary cleaner and wand in the one machine with the ease of swapping between them at the turn of a handle.
While the DPW-2500 is lighter, more compact and easy to maneuver than the DPW-4000, it does not compromise on power. The adjustable pressure ranges from 1000-2500PSI, making it suitable for a wide range of applications including parking lots, driveways, pavements and machinery.
Rory Kennard, Makinex Director stated, "We are always looking at developing products that allow tradespeople and contractors to do their job faster, safer and easier. Makinex is a quick and nimble company that will implement methods of continuous improvement, and better yet, take it to market quickly to meet ever-changing customer needs."
Other innovations designed by Makinex include the Jackhammer Trolley, a tile lifting and floor demolition tool, the Powered Hand Truck, a load and lift materials handling solution and a range of gas and electric Floor Saws for cutting concrete and asphalt.