Makita XAD03Z Brushless Cordless 1/2 Inch Right Angle Drill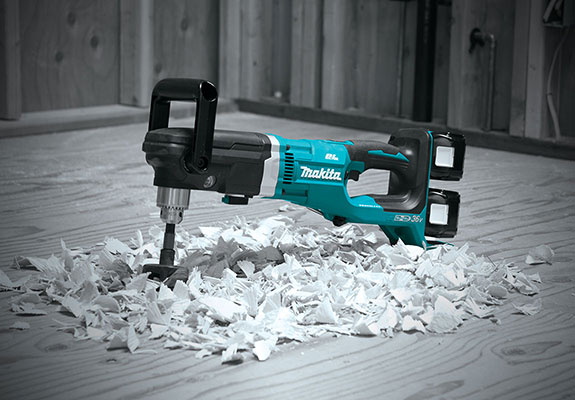 Makita, a pioneer in brushless motor technology and battery innovation, combines both in the 18V X2 LXT (36V) Lithium-Ion Brushless Cordless 1/2-Inch Right Angle Drill.
It's powered by two 18V LXT Lithium-Ion batteries (batteries sold separately) for maximum performance, and has an electronically-controlled BL Brushless motor that matches torque and RPM to the changing demands of the application.
Makita 18V X2 means freedom from the cord, and the XAD03 will take on the most demanding applications like drilling up to 6-1/4" holes with hole saws and 4-5/8" holes with self-feed bits. Best of all, users can remain in one battery platform, using the same fast-charging 18V batteries with the XAD03 as they use across the expansive Makita 18V LXT cordless system.
The XAD03 has a long list of features for drilling with superior speed and efficiency. The Makita BL Brushless Motor combined with X2 LXT technology delivers no-load drilling speeds of 0-350 RPM and 0-1,400 RPM. Under load, the Automatic Speed Change technology adjusts drill speed and torque during drilling for optimum performance.
Added features include an electric brake for maximum productivity, and a built-in clutch that reduces gear damage by disengaging gears if the bit binds (low speed only).
When using two 18V 5.0Ah batteries and a self-feed bit (batteries and bit sold separately), the XAD03 will deliver up to 160 2-9/16" holes per charge in 2x SPF.
Powered by two LXT batteries; X2 LXT technology delivers more power, speed and run time without the hassles of a cord (batteries not included)
Drills up to 6-1/4" holes with hole saws and 4-5/8" holes with self feed bits
Drills up to 160 2-9/16" holes per charge in 2x SPF using two 5.0Ah batteries and self feed bit (batteries and bit not included)
Makita BL Brushless Motor combined with X2 LXT technology delivers no-load drilling speeds of 0-350 RPM and 0-1,400 RPM for maximum efficiency
Automatic Speed Change technology adjusts drill speed and torque during drilling for optimum performance
Extreme Protection Technology (XPT) is engineered for improved dust and water resistance for operation in harsh conditions
Metal-gear housing increases tool durability and extends reliability
Torque limiter; built-in clutch reduces gear damage by disengaging gears if the bit binds (low speed only)
Electric brake for maximum productivity
Variable 2-speed design (0-350 RPM and 0-1,400 RPM) for optimum speed control and drilling versatility