Master Builders Ucrete HF60RT Heavy-Duty Rake and Trowel Flooring System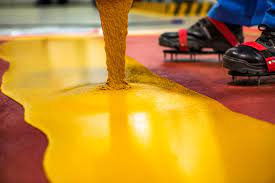 Master Builders Solutions ® has launched Ucrete HF60RT, a heavy-duty rake and trowel flooring system across North America. "RT" stands for "rake and trowel", indicating one of the biggest advantages of the system: Quick and easy application with reduced manual labor by lessening the need to work on hands and knees.
This enables installers to apply product by rake and trowel, resulting in less labor, better working conditions and faster applications. In addition to our 50+ years of Ucrete industrial flooring experience, we are proud to present Ucrete HF60RT, an impact-resistant, durable solution for a variety of applications.
Manufacturers of food and beverages, pharmaceuticals, and chemicals can install Ucrete floors in their production facilities and storage areas knowing that the system will withstand the harsh environments encountered, such as high impact, thermal shock, and chemical exposure.
The key features of Ucrete HF60RT:
It resists steam or hot water continuously
Fast curing even during extreme conditions
VOC compliant; low odor
Application is suitable on even 7-10 day old concrete surfaces
It is tolerant of organic and inorganic acids, alkalis, and salts
Maintains service temperatures from -40°F - 230°F (-40°C – 110°C)
Excellent resistance to abrasion and impact
HACCP-compliant
"In today's fast-paced manufacturing industry, short build times do not mean compromising on quality," said Business Manager Ken Calautti. "Building a new facility or renovating an existing manufacturing plant requires a flooring system that is both easy to install and of high quality. Our Ucrete HF60RT flooring system allows for quick installation, making it the perfect choice for projects on a tight schedule."
For additional information on Ucrete HF60RT, other products in our Performance Flooring range or to locate a Master Builders Solutions representative, visit www.master-builders-solutions.com/EN-US