Meltblown Technologies SPILLTRATION Husky Pads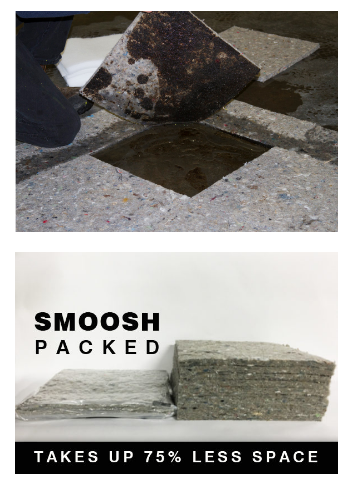 Like all SPILLTRATION products, ultra-thick Husky Universal Absorbent Pads are engineered for the first line of defense for the outdoors to absorb oils and fuels while allowing clean water to filter through. Husky Pads are smoosh-packed to compress and fit in areas up to 80% smaller than traditional oil-only sorbents.
SPILLTRATION Husky Pads for oil and fuel spills are engineered to work differently than traditional oil-only spill products.
SPILLTRATION Husky Pads are designed to work in the rain. Old fashioned oil-only products are ineffective in the rain
Provide a first line of defense to hold back oil and fuel spills until the emergency responder's arrive
Prevent oily water from reaching storm drains and waterways with SPILLTRATION materials
Avoid costly clean-up costs and fines by keeping spills in a small footprint
Husky Pads for oil and fuel spills compress to fit in an area up to 80% smaller than traditional oil spill products
You can fit 4x more SPILLTRATION containment and clean-up power in the same space as old oil-only products
With 400% more oil spill clean-up materials at your fingertips, you increase your chances to stop the spill
SPILLTRATION products are made entirely from post consumer and post industrial waste
Helps you in your sustainability initiatives
Because of the resilient fiber compounds, oil can be squeezed out of SPILLTRATION products and reused many times
Substantially reduce your materials and disposal costs by wringing and reusing Spilltration products
RECOMMENDED USES: To absorb hydraulic fluids, transmission fluids, diesel fuel, gasoline, motor oils, lubricants, and other hydrocarbons while filtering water at the same time.
Each pack of 5 Husky pads absorbs 1.72 gallons of hydrocarbons and tucks easily into a tiny 2″ x 16″ x 16″ space.
Perfect for first line of defense in:
Diesel & gasoline filling stations
Pickup and utility trucks
Service vans
Delivery trucks with hydraulic lift gates
Heating oil delivery tank trucks
Earth moving equipment
Emergency response vehicles
Near loading dock
REUSE
: SPILLTRATION Pads can be wrung out and used over at least 10 times…reducing materials and disposal costs.
DO NOT USE WITH: Acids and Caustics
ABSORBENCY: 44 ounces per SPILLTRATION pad; 1.72 gallons per pack; 17.2 gallons per case
ORDERING INFORMATION:
SPILLTRATION Husky Pads are sold in case quantities(5) SPILLTRATION Husky Pads per pack
(10) packs of 5 Husky pads per case
(50) Husky Pads per case
SPILLTRATION Husky Pads are avaialble in 8x8-inch squares in packages of 160 pads per case or 16x16-inch squares in packages of 50 per case.