Oil Eater Original Cleaner/Degreaser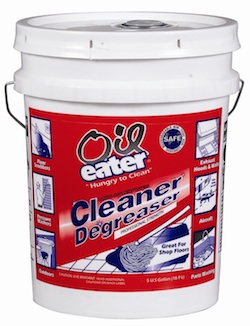 New Oil Eater Original cleaner/degreaser is uniquely formulated to eliminate the need for multiple cleaners. The powerful water-based cleaner dissolves grease, grime and dirt from storage tanks, power equipment, engines, tools, and much more in an environmentally friendly manner.
It is also effective in parts cleaning and pressure washing systems for more versatility. The eco-friendly cleaner is biodegradable, non-corrosive, non-toxic and non-flammable and contains no acids, abrasives or petroleum solvents. Proprietary anti-corrosion chemistry eliminates concern about damaging surfaces.
The low VOC cleaner quickly and safely encapsulates grease and grime into a solution that rinses off easily, leaves no residue and will not harm the skin. The formula is a unique mixture of non-iconic surfactants, emulsifiers, water softeners and other biodegradable ingredients.
It is available in 1-, 5-, 30-, and 55-gallon containers and a 275-gallon tote for high-volume users. A sample is available upon request.
For information, visit www.oileater.com or call 800-528-0334.