Minnich Single Gang Barrier Wall Drill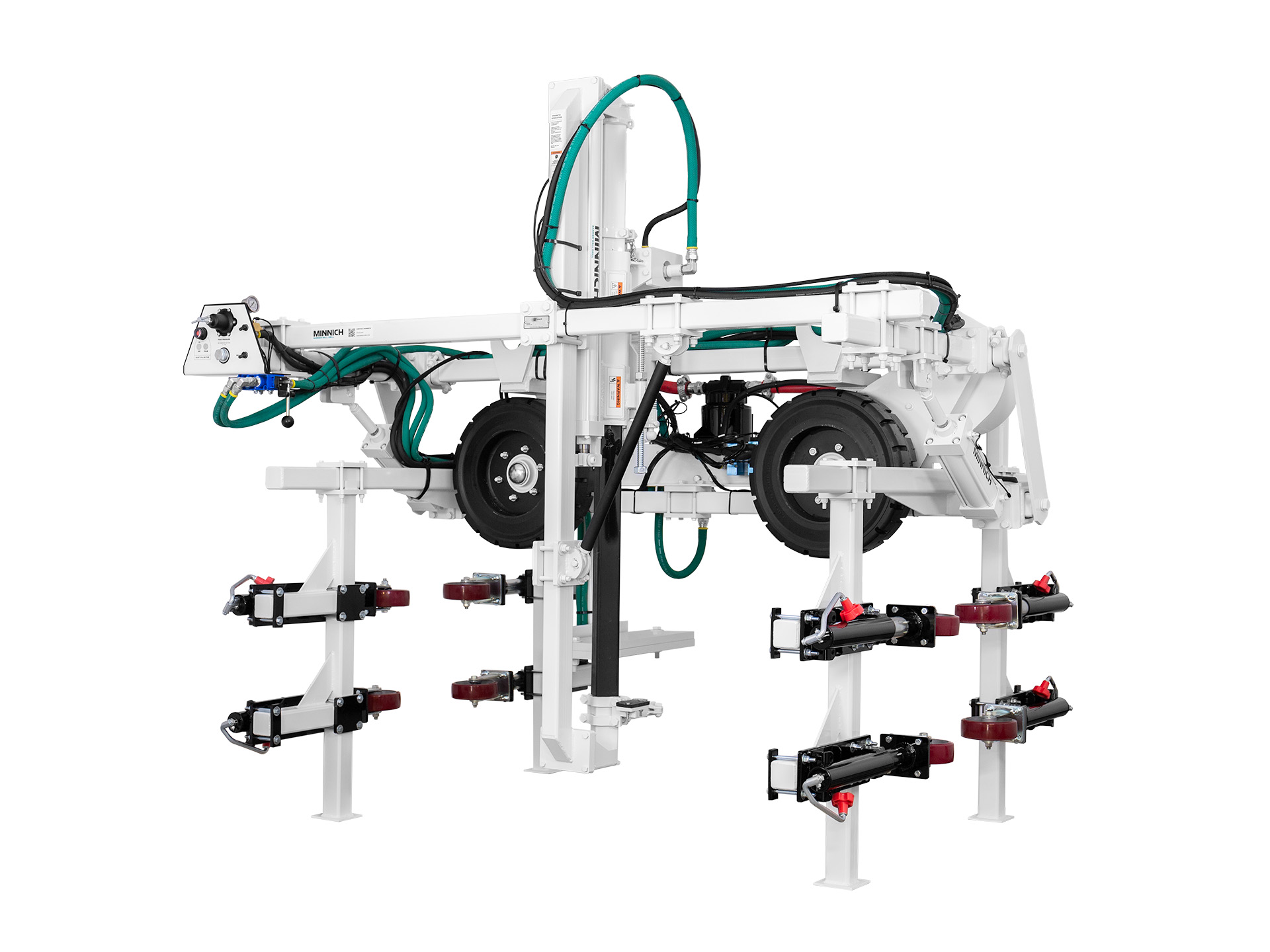 Minnich Manufacturing, the leading manufacturer of concrete dowel pin drills, concrete vibrators and vibrator monitoring systems, will introduce the new Single Gang Barrier Wall Drill at the World of Concrete 2024.
The Single Gang Barrier Wall Drill is a self-propelled, pneumatic drill that has been designed to optimize efficiency and safety during the process of securing concrete barrier walls by drilling a single hole with greater precision and in less time than multiple gang options.
The Single Gang Barrier Wall Drill eliminates the time of making manual adjustments to align multiple drill hole measurements. There is no need to line up drill holes. Simply align the drill steel through the pre-molded opening in the barrier wall, penetrate the sub-base, drop-in the steel pin anchor and move to the next securing point. Watch it done with ease.
The efficiency makes the Single Gang Barrier Wall Drill a superior option for roadway construction and patching projects requiring concrete barrier wall protection. The 8.5-foot by 6.5-foot frame easily sits on a 9-foot flatbed trailer for easy jobsite transport. The 1,630-pound drill can be lifted and placed on a concrete barrier wall with a backhoe or compact excavator.
The unit is equipped with an air-powered motor, which propels the equipment along the barrier wall from hole to hole. Manual intervention is further decreased with a tethered handheld remote that enables operator control at a safe distance from the machine during the drilling process.
Safety is further enhanced with an optional dust collection system, available for all Minnich drills, that removes dust from the jobsite to protect operators and meet Occupational Safety and Health Administration (OSHA) standards.
"We are extremely excited to offer a concrete drill specific to barrier wall installation that maximizes productivity and safety by increasing the drill speed and precision for our road construction customers," said Rob Minnich, president/chief marketing officer for Minnich Manufacturing. "The efficiency and quality of this product will provide its users a superior drilling experience — while also being a cost-effective option."
The Single Gang Barrier Wall Drill reaches a maximum drill depth of 18 to 36 inches with a drill steel shank of 1 inch by 4.25 inches and a drill bit diameter of 1 to 2.5 inches. The drill requires 140 scfm and 120 psi of pneumatic power.
"The Single Gang Barrier Wall Drill allowed us to drill 1,000 holes in three days," said Matthew Hill of W-L Construction & Paving Co. in Virginia. "We're so pleased with the ease of using the drill that we are planning on purchasing a second one to continue enhancing our operation's efficiency."
Minnich also offers a Barrier Wall Drill that allows the simultaneous drilling of up to three pin holes simultaneously. The three-gang drill also provides full operator control using a tethered controller for greater safety.
The World of Concrete 2024 will be held at the Las Vegas Convention Center, January 23 – 25, 2024. Stop by the Minnich Manufacturing booth C4237 in Central Hall for a hands-on view of the Single Gang Barrier Wall Drill.
For more information, visit minnich-mfg.com or call 419-903-0010.