Newborn Brothers Customizable and Dual Thrust Guns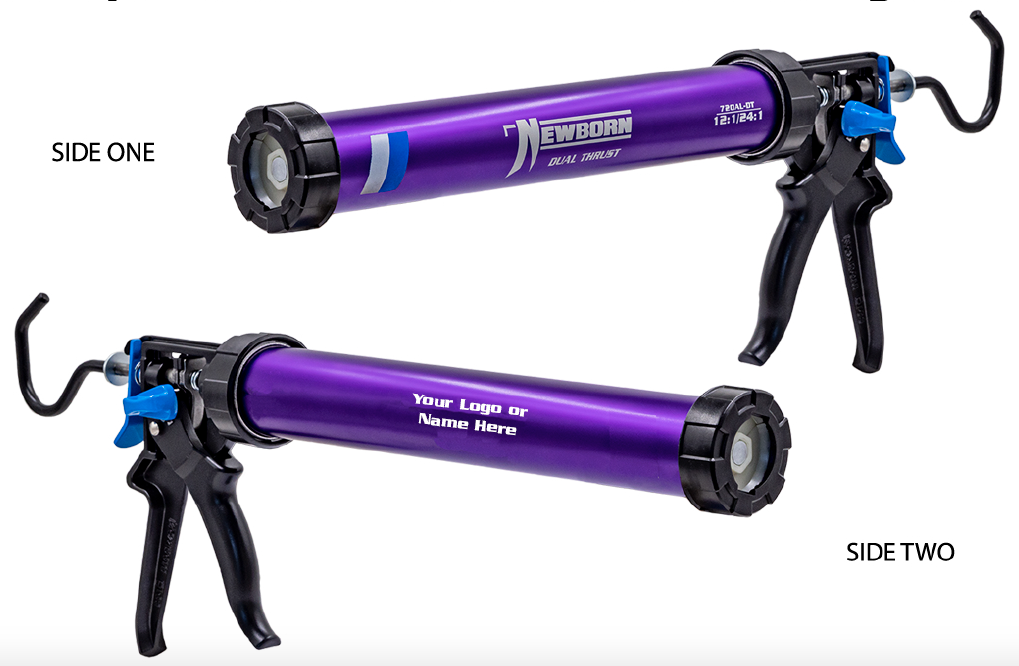 If you haven't had any of your tools stolen from a job site, you haven't worked in the construction industry for very long. This frustrating occurrence now has a solution – Newborn Brothers' laser engraved sausage gun customization! Not only does this service deter job site theft, but it can also be an excellent gift for long-tenured employees, or simply a fun way to customize your tools. Unlike a sticker, this permanent, professional laser etch engraving will not fade or peel off over time.
With the choice of 8 solid color barrels between 3 different models, you have the opportunity to stand out and personalize even more. These models include the 420AL (12:1 thrust), the 620AL (18:1 thrust) and, most excitingly, Newborn's new 720AL-DT gun that provides a two-in-one experience with two thrust ratios (12:1/24:1).
This model can be used in a variety of climates and with a variety of materials. The 12:1 thrust ratio is useful for lower viscosity materials such as silicones and latex, or for working in hotter temperatures. The 24:1 thrust ratio is useful for thicker materials such as epoxy and urethanes, or for working in colder temperatures.
The dual thrust gun is available in a sausage/bulk model (720AL-DT), as well as a 10 oz. cartridge model (360-DT). When a different thrust ratio is required, simply hold down the thumb release, use the blue knob to switch, and continue caulking.
Reach out to your local Newborn distributor to learn more about either the new customization program for our sausage guns, or our dual thrust guns. www.newborncaulkguns.com