Mortar Net Solutions 0.4-Inch WallDefender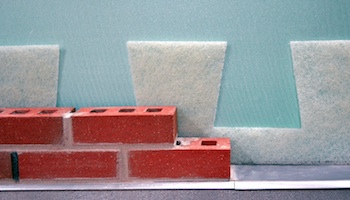 Mortar Net Solutions, a leading supplier of innovative moisture management solutions for masonry walls, introduced a new, 0.4-inch-thick size to its WallDefender line, the lowest cost mortar dropping collection devices available.
Originally available in 1- and 2-inch thicknesses, WallDefender helps prevent moisture damage to masonry cavity walls by preventing mortar droppings from blocking weep holes.
This easy-to-install moisture management solution suspends mortar droppings above flashing on two levels of its trapezoidal-shaped, open-weave mesh, while allowing water to flow through the mesh and exit the cavity.
"The new WallDefender size is ideal for the smaller wall cavities that you would find in residential and light commercial construction," said Art Fox, marketing manager at Mortar Net Solutions. "It offers the same cost-effective mortar collection that Mortar Net customers expect in the thinner size they need."
Simple installation and Mortar Net's outstanding customer support make WallDefender quick and easy for masons to install. WallDefender is clean, non-toxic and will not oxidize or react with common materials, providing excellent moisture management throughout the life of the wall.
For more information, visit mortarnet.com/products/walldefender.