Buyers Products SnowDogg VUT65 Plow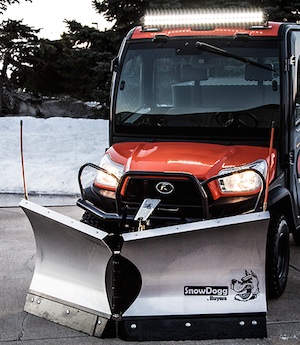 Buyers Products introduces the new SnowDogg VUT65 plow for utility vehicles. The new plow is ruggedly designed and versatile, offering operators aggressive snow removal in tighter spaces, with more control.
Features of the new plow include:
Optimized weight, designed to work with most full-size utility vehicles
Simple, rugged design featuring Buyers' signature stainless steel for increased durability
Optimal V-plow design with narrow, 60-inch width (at V), a 70-degree attack angle and fast-acting hydraulics
Aggressive flared moldboard is specifically designed to move the maximum volume of snow coupled with a simple, torsional trip edge for smooth plowing
Double-acting cylinders provide powerful back-dragging
Greasable hinge pin for easy maintenance
Standard, wire-reinforced blade guides
Digital controller with large, glove-friendly buttons and one-hand use
"This plow really brings a world of new options for UTV plowing," said Dave Zelis, director of sales and marketing at Buyers Products. "Farm, municipal, professional and private users will benefit through increased use, flexibility and durable design of the VUT plow."
For more information, visit snowdoggplows.com.