MovinCool Climate Pro 12 Portable Heat Pump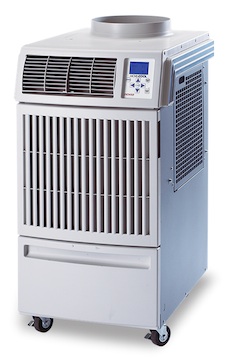 MovinCool, a brand of DENSO Corp., the world's largest manufacturer of commercial spot air conditioners, announces the Climate Pro 12, a new portable heat pump that offers unmatched cooling and heating performance in a single, self-contained unit.
Compact and versatile, the Climate Pro 12 provides cooling and heating relief in a variety of environments, ranging from offices and schools to warehouses and assembly lines.
The Climate Pro 12's cooling capacity of up to 10,200 British thermal unit per hour (Btu/h), heating capacity of up to 9,900 Btu/h, and minimum operating temperature with plenum of 24 degrees Fahrenheit makes the unit the best-performing model in its class, based on actual measured output. It also plugs into any standard 115-volt 15-amp outlet.
The model's large, easy-to-read LCD display provides convenient step-by-step instructions to start, set up and program operations. Accessories include a condensate pump for automatic water removal, extension ducts and companion ceiling tiles for additional exhaust removal and air supply, nozzle adapters for spot cooling, a digital wall thermostat, and a transformer compatible with off-the-shelf 24-volt thermostats.
MovinCool's industry-leading warranty covers parts and labor for three years. For more information and specifications on the Climate Pro 12, visit http://movincool.com/portable-air-conditioners/climate-pro-12.