Festool CT48 E Dust Extractor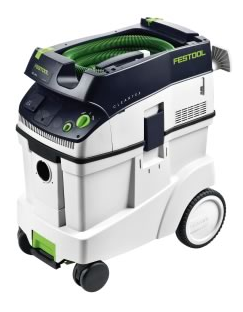 Festool's new CT Dust Extractors represent the most evolved, most complete dust removal system available today. Backed up by tools that are engineered for efficient dust removal as a top priority, and the broadest range of cleaning sets, filters, bags, hoses, nozzles, brushes available, we are confident that you will not find a more complete solution.
The new units offer many of the features that have made the CT 22 & 33 the standard-bearers for dust extraction, including HEPA filters as standard equipment, tool-actuated startup, antistatic capability, and more. In addition, the new CT units offer greater capacity, all-new self-cleaning filter bags and a hose garage as standard equipment.
Lighter weight with a greater capacity in the same footprint.
When Festool engineers started the task of improving the CT 26, CT 36 and CT 48 over the previous models, CT 22 and CT 33, they began with the basics. Since our dust extractors are purpose built to be mobile, they found ways to increase capacity and reduce weight without increasing the overall size. What this means to you is that carry about two pounds less weight while gaining about an extra gallon of capacity. The inside of the new units are best described as cavernous.
Self-cleaning filter bags.
In an endless quest to offer solutions to the challenges you face, Festool engineers also redesigned the filter bags. The new bags are designed to prevent internal build up of fine dust particles. These particles can clog the pores of the filter bag which reduces the overall suction efficiency. Since other manufacturers' dust extractors do not employ this type of technology, you pay more for partially filled bags because the motor can no longer provide suction. Even worse, it can lead to premature, costly motor failure or overheating.
Integrated hose garage.
A favorite accessory for owners of the previous models, the new CT 26, CT 36 and CT 48 include an integrated hose garage as standard equipment, a $47 value. The hose garage offers a convenient space to coil your hose and cables. This protects them from damage during transportation and reduces the chances of accidental tripping.
Single, modular HEPA filter.
Unlike the CT 22 and CT 33 which required two main filters, the new models use a single, modular filter design. This makes changing the filter very easy. To aid in removal of the filters and filter bag, the new CT 26, CT 36 and CT 48 lid is completely removable. Protective feet on the bottom of the lid prevent damage to the filters or to the surface on which the lid is placed. A latch on either side securely locks the lid back in place. The power cord is now located on the rear of the lid.
Next generation high-efficiency motor design.
A new high-performance turbine guarantees a higher volume flow and vacuum force resulting from higher rotational speeds. The previous CT 22 and CT 33 models' motor had a speed of 24,000 RPM compared to 36,000 RPM in the new models. Much of the weight savings from previous models can be attributed to this new motor which is over 2.5 pounds lighter.
New, low-abrasion tires.
The new CT 26, CT 36 and CT 48 feature a new low-abrasion tire. With a rubber-like compound, these tires a resistant to picking up debris yet soft enough to be easy on hardwood flooring. Another advantage is lower rolling noise during transport. A front-mounted locking brake has replaced the more cumbersome dual, independent rear-mounted locks.