Generators: Next Generation Power Compressor/Gen-Set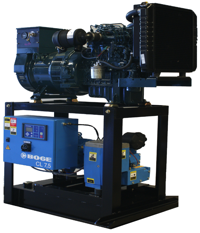 Heavy-duty electrical compressors don't need a big gen-set for off-grid startup if the components are matched properly. Next Generation Power pairs a Boge compressor to a small but efficient Kubota-powered gen-set as a space-saving solution for spray foam rigs and shops. It can be completely customized to the user's electrical and air requirements.
On the gen-set side, Next Gen directly couples an efficient, copper wound Stamford Newage generator to a compact, Kubota 3 or 4-cylinder industrial engine running at 1,800 rpm. It easily starts large electric motors, yet is small, light and fuel efficient.
The German-built Boge electric rotary screw compressor is known for its durability and quiet operation. It features high-end controls and simple maintenance. Unlike belt-driven or direct-coupled compressor combo units, it can be plugged in to shore power when available.
Components can be stacked on space-saving frames, and fuel tanks, control panels and other options are available for an operator's unique needs. The pictured compressor/gen-set combo, with a 4-cylinder, 21 kW gen-set and 30 cfm Boge CL 7.5 compressor is $14,950. It measures 52" H x 50" L x 30" W and weighs approximately 1,575 lbs.
Contact Next Generation Power, 1732 St. Johns Bluff Rd., Jacksonville, FL 32246. 888-463-9879; Fax: 904-642-8175. sales@nextgenerationpower.com.