Generators: Subaru RGX series Generators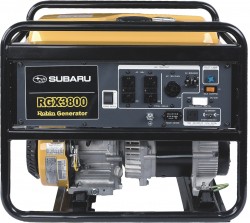 Subaru introduces two new compact conventional generators, the RGX3000 and RGX3800, designed to handle the needs of contractors, homeowners, and recreational users.
The RGX3000 is powered by Subaru's 6-horsepower EX17 engine. The unit delivers a maximum output of 3,000 watts (2,400-watt standard output rating) and offers 10.3 hours of continuous operation.
Powered by the 7-horsepower EX21 engine, the RGX3800 delivers a maximum output of 3,800 watts (2,900-watt standard output rating) and can operate continuously for 9.5 hours. Also, the RGX3800 features an automatic idle control, which lowers the engine speed when no electrical power is needed. This further lessens fuel consumption while minimizing noise.
Featuring a high surge capacity, the generators are able to take on up to 150 percent of the rated power for as long as 20 seconds. Constructed of heavy-duty steel, each unit houses a large zinc-plated steel fuel tank and durable electric components that feature copper windings with high temperature insulation. Solenoid-actuated AC circuit breakers provide reliable overload protection, while GFCI receptacles help ensure operator safety.
Other standard features include hour meters, low-tone mufflers with U.S. Forestry-approved spark arrestors, and low oil level sensors with automatic shutoff. Two-wheel kits are optional.
In addition to its conventional generators, Subaru also offers a line of inverter generators. All Subaru equipment is backed by an industry-leading, 3-year limited warranty that covers parts and labor.