PREBENA 8XR-CNW90 Coil Nailer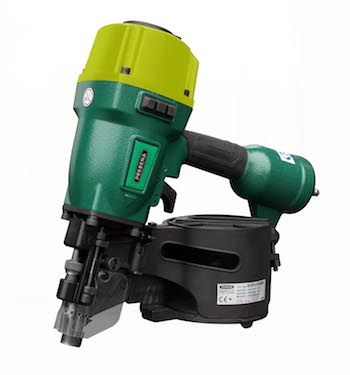 With the new 8XR-CNW90 coil nailer, PREBENA Wilfried Bornemann GmbH & Co. KG completes its XR product family for home and hobby craftsmen.
But the PREBENA coil nailer 8XR-CNW90 is not only suitable for home and hobby craftsmen. Due to its robustness and power, it also meets all the requirements for the professional.
It uses wire collated coilnails of type CNW from 45 - 90 mm (1-3/4" – 3-1/2") with a wire gauge of 2.5 - 3.1 mm (0.098 – 0.122 in.). The PREBENA product range offers a wide range of different coi lnails, amongst others also coil nails according to the requirements of Eurocode 5.
The device can be operated with single or bump fire. A tool-free depth adjustment allows easy adjustment of the drive depth. Safety device, adjustable exhaust and exhaust silencer are standard features. For easy transport the coil nailer is delivered in a plastic case.
The coil nailer 8XR-CNW90 is used everywhere that can be nailed: roof formwork, roof battens, wooden fences, garden sheds, terraces and much more.
Technical Details:
Weight: 4,1 kg (9.04 lb.)
Operating pressure: 5 - 8 bar (71 – 116 psi.)
Air requirement: 2,7 l/nail (0.71 gal.)
LxWxH: 370 x 145 x 370 mm (14.35 x 5.71 x 14.57 in.)
For further information please visit: www.prebena.com