Paslode PowerMaster Pro Framing Nailer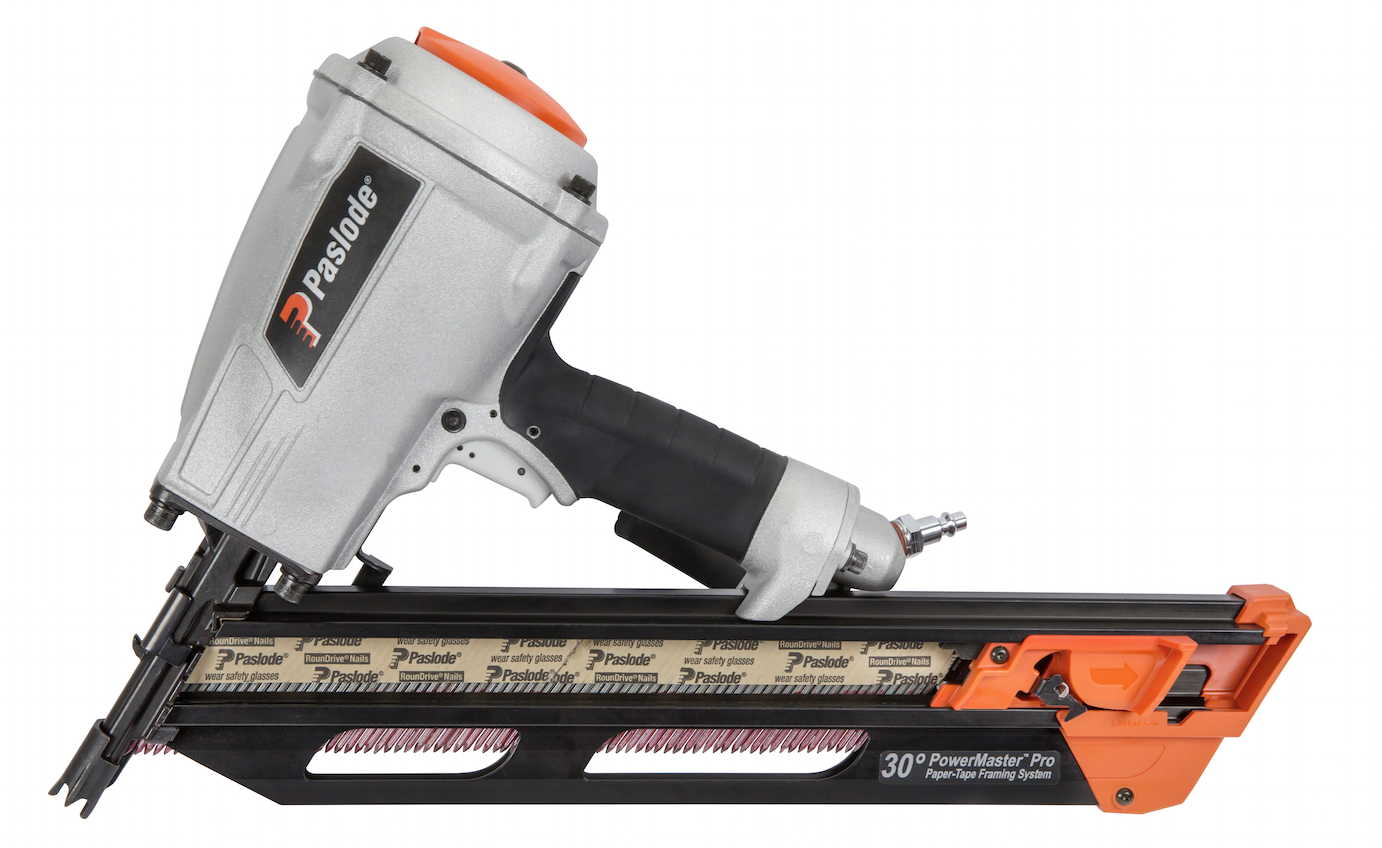 The PowerMaster line of framing tools have been trusted by framers for more than 20 years. Building on its legendary tradition of reliability, durability, and speed, the recently launched PowerMaster Pro adds features to help professional framers become even more productive.
The PowerMaster Pro increases productivity with features like a quick 2-step rear-load magazine and a 1/2-pound lighter tool weight (at 7.9lbs.) for reduced fatigue all day long. The PowerMaster engine, a "proven workhorse", ensures nails drive flush into the toughest lumber allowing you to maintain job-site momentum.
Paslode's innovative 30° RounDrive fasteners complement the PowerMaster Pro system for peak performance. Our nails are designed and manufactured to work optimally with our tools to reduce jams thus minimizing downtime.
"Paslode designs fastening systems that deliver on our promise to make framers' jobs easier," said Scott Sisney, Paslode Product Manager. "Not only did we improve day-to-day performance with the updates, we also kept the simplistic engine design for easy on-site maintenance and increased up time. It lasts and endures, which allows the job to be completed easier and faster."
Paslode, as part of Illinois Tool Works (NYSE: ITW) Residential Construction Division, is a premier manufacturer of innovative fastening solutions and services. For over 80 years, professional contractors, remodelers and specialty tradesmen serving the residential construction market have relied on Paslode products to drive worksite efficiency, customer satisfaction and business results. As the pioneer of innovative fastener and tool technologies, Paslode continues to deliver a broad range of performance proven, high quality fastening solutions through STAFDA distributors and dealers, as well as major home improvement retailers.
The PowerMaster Pro is currently available at STAFDA distributors, Authorized Paslode Dealers, and Professional Lumber Yards. In early 2017, the PowerMaster Pro will be available at Home Depot, Lowe's and Menard's. For more information about Paslode and the PowerMaster Pro Framing Nailer, visit www.paslode.com.