PREBENA DNPF16 Pneumatic Nailer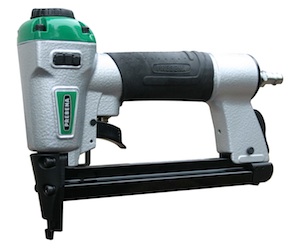 PREBENA Wilfried Bornemann GmbH & Co. KG extends its hand tacker program with a pneumatic nailer, model DNPF16. Furthermore a new color-coordinated system enables an easier assigning of the fasteners to hand tackers.
The DNPF16 is suitable for staples type PF from 6-16 mm. These and the application areas are identical to the tackers that already are in the product range, but their use with a pneumatic tool enables more effective, faster and easier work with less effort.
The DNPF16 has no recoil and is equipped with safety device, bottom load magazine, exhaust silencer and adjustable exhaust as standard. The DNPF16 is suitable for fastening roofing felt, insulation, foil, poster, canvas, carpet, furniture backs, upholstery, wire mesh and much more.
Specifications:
Weight: 0,75 kg
Length: 230 mm
Width: 48 mm
Height: 166 mm
The DNPF16, packed in a blister with new color code, ideally fits in the new designed hand tacker program.
For more information: www.prebena.de