Rockler Bench Dog Sound Shield Safety Glasses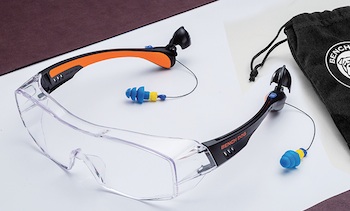 The glasses combine protective eye lenses with specially designed earplugs that are tethered to the frame by cords, allowing the user to carry and use eye and ear protection all in one device.
The Sound Shield Safety Glasses employ clear plastic, anti-fog lenses to provide appropriate eye protection while maintaining clear visibility of the work being performed. They are also available in a "fit over" design to be worn over eyeglasses.
The earplugs slide in and out of the frames by pulling either end of the cords. They then store in compartments in the earpieces of the frames when not in use, which eliminates the hassle of misplacing earplugs.
"The Sound Shield Safety Glasses make eye and ear protection very convenient," says Steve Krohmer, Rockler's vice president of merchandising and product development. "Safety is always first, but now it's also fast and easy. Once the glasses are on, it's a snap to pull the earplugs and pop them in."
The Bench Dog Sound Shield Safety Glasses carry a high-impact safety rating and are hard-coated to resist scratches. They also have an anti-fog coating and provide protection against both UVA and UVB rays. The earplugs have a noise reduction rating of 25 decibels. Each pair includes a microfiber pouch to store and protect the glasses when not in use.
The Bench Dog Sound Shield Safety Glasses (54801) and Fit Over Safety Glasses (52821) are priced at $19.99 each. Both can be purchased at rockler.com or Rockler Woodworking and Hardware stores nationwide, as well as through the Rockler catalog. For store locations or a free catalog, visit www.rockler.com or call 1-877-ROCKLER.