Pass & Seymour Industrial Watertight Ground Continuity Monitoring Products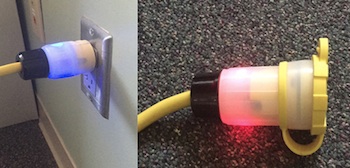 Legrand announces the expansion of its Pass & Seymour industrial watertight product line with new products designed to safety in a variety of harsh applications.
"We developed the new watertight ground continuity monitoring, or GCM, products with an integral indication of ground continuity and power status that also delivers continuous upstream monitoring for enhanced personal safety and added convenience in identification issues," said Trevor Gardner, Pass & Seymour Product Manager.
Watertight Ground Continuity Monitoring
The new industrial watertight ground continuity monitoring products have a dual bright blue or red LED indicator, which is encased in a transparent thermoplastic elastomer. This allows the lights to be seen while providing a NEMA 6P/IP67 rating.
The blue light indicates the upstream circuit is grounded and wired properly from the receptacle back to the panel and from the cord set back to the plug. The red light indicates the open ground/reversed polarity of line conductor power is present in the device. If no light is indicated then then there is no power, no open hot or neutral conductor, or no hot/ground reversal.
Black Watertight Plugs and Connectors
14W47BK (2)New Pass & Seymour black industrial watertight plugs and connectors are made with thermoplastic elastomer all-black construction that stands up to impacts, oils, chemicals, heat, and weather. The nickel-plated blades and contacts are designed for long lasting, superior 15W47BK (2)corrosion resistance and the multipoint sealing system provides environmental protection of: NEMA 4, 4X, 6, 6P & IP67 ratings. The devices resist high-pressure hose down of 1,500 psi. The color-coded sealing bushings offer a large range of cord diameters and the large ribs on the body allow for a superior grip when mating receptacles.
Watertight Receptacles
New Pass & Seymour industrial watertight receptacles offer an impact-resistant Valox lid, cover plate, and receptacle body that withstands impacts, chemicals and corrosion. These receptacles come with spring-loaded flip covers that offer protection when the device is not in use and are made with a stainless steel hinge spring and pin for corrosion resistance.
Uses for these new products
All these new products, like many in the Legrand line of Pass & Seymour industrial products, can be used in food and beverage processing plants, petrochemical production facilities, pulp and paper mills, water and wastewater facilities, warehouse and refrigeration facilities, in mining operations and places where temporary power is used.