Peterson Dot Light XL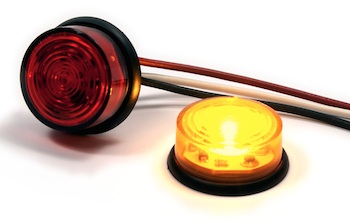 Peterson Manufacturing is pleased to introduce something bigger and brighter in single-diode LED clearance/marker/mid-turn lighting for heavy-duty trailers.
The new model, USA-made and called the Dot Light XL, is designed to solve a complaint by drivers of rigs equipped with popular compact LED marker lights: poor visibility due to the build-up of diesel soot, road grime and/or snow pack.
All current compact models feature 3/4" single-diode LED lights sized to mount in the 3/4" holes of many OEM trailers. Peterson engineers used the company's exclusive LumenX lens technology to nearly double the visible surface area of the Dot XL to 1-3/8", while still fitting 3/4" mounting holes. The result is a PC-rated, single-diode LED light big and bright enough to retain excellent visibility despite road and weather conditions.
"When trailer lights get dirty or snow-packed they appear dimmer," said Tim Gilbert, Peterson's Director of OEM & Heavy Duty Fleet Sales. "That's especially true of the small LED marker lights so popular today. The superior optics of our Dot XL offer a brilliant solution: greater visibility plus multi-function versatility."
Dot XL lights are lensed in LumenX red or amber, and feature specially designed rubber grommets for easy mounting in standard 3/4" holes. All models have a 9-16 VDC operating range and are available with stripped wires or Defender approved .180 bullet terminals. Options include a hardwired, two-wire design with 8" leads, and a three-wire version for auxiliary brake or turn functions.
"Our fleet customers were looking for something bigger and brighter in LED marker lights," said Gilbert. "Peterson is proud to deliver the solution: the Dot XL – all USA-made and ready to ship January 1, 2016."