Appleton Low Profile Mercmaster LED Luminaires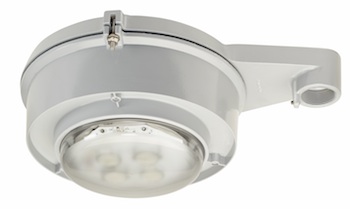 Appleton introduces its new Mercmaster LED Low Profile Series of hazardous location and ordinary location luminaires designed for lighting industrial environments requiring greater clearance levels along with reduced energy consumption.
With an installed profile of only six inches, the luminaires' installed depth is approximately 25 percent less than its nearest competitor and consumes 65 percent less energy than a standard HID.
The introduction gives Appleton distributors and customers a broader range of LED options. In addition to this new low-profile, lightweight series, Appleton offers its Mercmaster III, Code*Master, Viamaster and Areamaster families of LED luminaires that fit a wide scope of installation needs for almost any industrial or hazardous application.
Delivering up to 5,000 lumens of uniformly distributed light, Mercmaster LED Low-Profile luminaires yield superior performance in areas with ceiling heights up to 15 feet or where OSHA regulations limit the use of ladders, resulting in lower mounting heights for fixtures.
Advanced design ensures the luminaires will not not create annoying spotlight effects or dark areas, providing ideal illumination for any general or task lighting application.
Four replaceable globe alternatives -- clear glass, clear polycarbonate, diffused polycarbonate and prismatic glass refractor -- allow engineers to choose the perfect lighting solution.
Mercmaster LED Low-Profile luminaires are especially valuable in transitioning facilities from HID lighting to LED since each Mercmaster LED Low-Profile model maintains the same look and feel as its HID counterpart by using identical housing and mounting hoods. A single fixture housing accomodates all lumen levels, globe styles, and mounting styles. This smart engineering direcly translates into significant savings in retrofit time, labor and labor costs.
Hazardous location versions of the Appleton Mercmaster LED Low-Profile Series are certified for Class I, Div 2 and Zone 2, and Class II, Div 1 & 2 applications, wet and marine outside conditions (NEMA 3R, 4 and 4X) and IP66. Ordinary location models can be deployed in wet and marine locations and other harsh areas not subject to hazardous gasses and dusts, such as storage areas, parking garages and food/beverage processing.