Anchors: Powers Fasteners Safe-T+Pin Anchor
Tested to ICC-ES AC 193 for Cracked and Uncracked Concrete.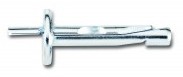 The new Powers Safe-T+Pin is a one piece all steel nail drive anchor that can be used in concrete, block, brick or stone. Each box of Safe-T+Pins comes with a free 6mm SDS carbide drill bit for ease of installation.
Typical applications for the Safe-T+Pin include HVAC duck straps, light- to medium-duty signage and termination bar, flooring ECT. The product is available in one diameter and two lengths. Just drill a hole and hammer it in.
General applications and uses:
Suspending conduit
Tension zone applications
Cable Trays and strut
Seismic wind loading applications
Pipe Supports
Suspended lighting
Fire Sprinklers
Interior applications/low level corrosion environments
The new Powers Safe-T+Pin is in stock and ready for delivery. Call 800-524-3244 toll free for your nearest authorized Powers distributor or for a free demonstration.