Gas Engine Equipment: Predator Power Model P38 Stump Grinder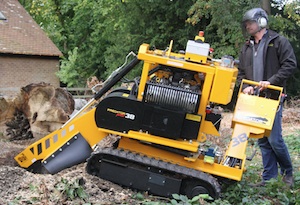 Leading UK arboricultural equipment supplier Predator Power is launching its latest model stump grinder in the U.S. market. The new Predator 38, is a very high power tracked machine in a compact package. Its 38-hp Kohler gas engine delivers maximum power with exceptionally smooth performance regardless of power requirements.
With a minimum width of 26 inches, the P38 has a cutting depth of 18 inches, a swing of 54 inches, and patented, performance-enhancing Multi-Tip wheel. No other stump grinder has ever had this amount of big machine brute power in such a compact, versatile package.
The P38 grinds out stumps to a depth of 18 inches with a swing of four and a half feet. The variable width tracks spread from 26 to 40 inches providing an extremely stable, low ground pressure platform whether in or out.
The P38 is 96 inches long, 26-40 inches wide and 60 inches tall. It weighs just 2,200 pounds and has a central, perfectly balanced lifting eye. Options include high-end radio control, with fully proportional controls for smooth and precise operation in tight locations.
Predator invites inquiries from dealers interested in becoming Predator resellers. Dealer and direct sales inquiries to info@predator-mfg.com.