Quick Fitting Copper Street Elbows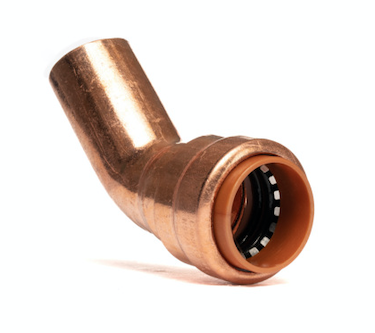 Quick Fitting, a leading manufacturer of quick connection technology for plumbing, electrical, industrial, municipal, and OEM applications, announces that it is expanding its market-leading Quick Fitting Copper products with the launch of its Quick Fitting Copper Street Fittings.
The patented design of these street elbows facilitates a fast and simple installation of offset pipes.
One of the primary use cases of Quick Fitting Copper Street Fittings are offset pipe installations, which are made quick and easy by the distinctive design of these street elbows.
Coming in both 45 degree and 90 degree angles, the street elbows provide a unique advantage, as they can connect directly to other fittings without requiring an additional short connecting piece.
The patented dual seal design of Quick Fitting Copper Street Fittings creates redundant sealing surfaces that dramatically reduce the chance of leaks. They can also be installed in tight corners where press tight fittings are not applicable, allowing the installer to maintain a complete copper system. Its grip ring is also self centering, requiring less force to insert a tube or pipe.
The street elbows are approved by plumbing codes for use in commercial and residential buildings, being certified by IAPMO to ASSE and NSF standards. This makes the Quick Fitting Copper Street Fittings ideal for residential repair and remodel plumbers, as well as residential new construction plumbers.
With zero lead content, the street fittings are fully NSF 61 and NSF 372 compliant and certified as complying with the Safe Drinking Water Act's lead-free requirements. Affirming Quick Fitting's commitment to safety and environmental responsibility, the street elbows do not add lead or any other contaminants that could cause adverse health effects.
Quick Fitting Copper Street Fittings distinguish themselves by providing convenient installations while also keeping drinking water clean. For more information about Quick Fitting Copper fittings, visit www.quickfitting.com/.
About Quick Fitting
Quick Fitting Holding Company, LLC designs and delivers Quick Connection Technology. Our proven, reliable, and innovative pipe, wire, and conduit fittings and valves help professional contractors and DIYers by simplifying installations and repairs and making them faster and less expensive to complete. Our cost-effective, simple and safe solutions can be applied in industrial, commercial, marine, agricultural, RV and mobile home, and residential settings.