RIDGID SeeSnake rM200 Camera Reels with TruSense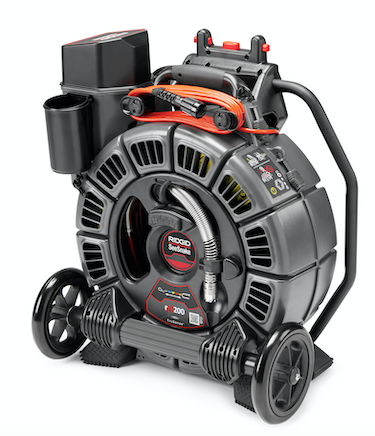 RIDGID®, part of Emerson's professional tools portfolio, introduces the SeeSnake rM200 Camera Reel with TruSense for superior image clarity and camera functionality. Known for its built-in versatility and portability, the rM200 now also has enhanced transport and storage features.
Ideal for tackling lines up to 200 feet in length and 1-1⁄2 to 8 inches in diameter, the rM200's new camera functionality features TruSense technology with high dynamic range imaging (HDR) and TiltSense inclinometer for clearer in-pipe vision. New smooth wheel assembly provides easier transport, while taller storage bins increase internal capacity.
"Introduced in 2019, TruSense continues to provide the industry's best in-pipe image, giving professionals a better understanding of a pipe's interior and how best to resolve an issue," said Laura Wolverton, marketing director, underground technologies, RIDGID for Emerson.
"The rM200 Camera Reel is the latest in the RIDGID line of SeeSnake cameras to integrate the TruSense technology to provide optimized pipe inspection."
TruSense establishes a two-way datalink between the camera head and a connected RIDGID SeeSnake Wi- Fi enabled monitor. With TruSense, advanced sensors on the camera head convey valuable information about the in-pipe environment, while the HDR image sensor expands the camera's dynamic range, allowing a greater ratio of bright and dark areas to be displayed at the same time without reducing visibility. This means fewer blown-out areas and sections of the pipe that are too dark to see, offering superior clarity and detail.
TiltSense measures the camera's angle and when connected to a SeeSnake series monitor, the camera can convey the camera's degree of tilt on the monitor display – giving professionals a useful indicator of the pitch of the camera in-pipe.
All RIDGID SeeSnake cameras come with the RIDGID Full Lifetime Warranty.
To purchase or learn more about the rM200 series' multiple drum and cable length options, visit RIDGID.com, or call toll-free: 1-800-4RIDGID.