RIDGID
RP 115 Mini Press Tool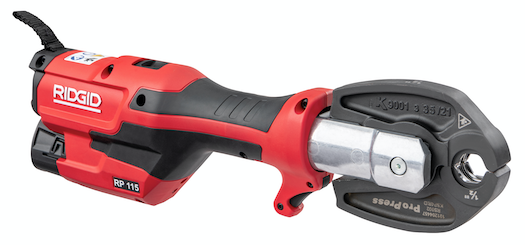 The Smallest, Lightest Press Tool on the Market
RIDGID®, part of Emerson's professional tools portfolio, introduces the smallest and lightest press tool on the market, the RP 115 Mini Press Tool. Designed for residential and lightweight commercial plumbing use, it completes the majority of press connections installed in the market with ease, while getting professionals to their next job faster.
Engineered with the quality and technology that have kept RIDGID first in pressing for decades, the RP 115 can press 1/2-inch to 3/4-inch copper and stainless steel fittings. It is 14.6 inches long, 2.5 inches wide and weighs only 5.5 pounds with battery and jaws. The RP 115 has a SlimGripTM handle and optimized trigger for balance and control; one-handed jaw opening and operation for reach and ease of use; and 210-degree head swivel for access to tight spaces.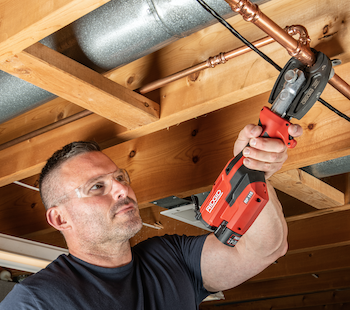 "The RIDGID RP 115 Mini Press Tool is the ideal option for plumbers just getting started with pressing or who are wanting a versatile tool to outfit their fleet of trucks," said Michael Provenzano, global marketing director, press connections, RIDGID for Emerson.
"The RP 115 makes pressing more accessible for professionals and also provides heavyweight value with its ability to press the majority of press connections in the market."
The RP 115 is the latest tool in the complete line of RIDGID press tool solutions that range from the newly launched mini to compact, standard and extended tool options. With more tool, accessories and attachment options than any other brand in the United States, RIDGID has been the industry leader in pressing since 1999.
The RP 115 comes with the RIDGID Full Lifetime Warranty.
To purchase or learn more about the complete line of RIDGID press tool solutions, visit RIDGID.com, or call toll-free: 1-800-4RIDGID.