Reelcraft spring-retractable WCH7000 and WCH80001 Cable Welding Reels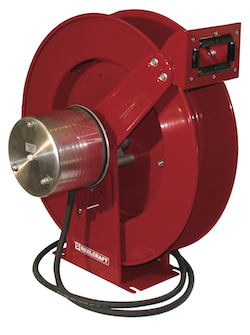 Reelcraft's new spring retractable WCH7000 and WCH80001 cable welding reels are designed to improve safety in the work area and help to increase efficiency and productivity.
Built on the popular Series 7000 and 80000 platform, these reels are designed for electric welding applications. These new reels have a current path through a continuous 700 AMP, 90 V DC (maximum) rated enclosed slip ring.
The WCH7000 can hold up to 50 ft. of #3/0 or #4/0 work lead or electrode lead with the WCH80001 reel holding up to 75 ft.
For additional information call 1-800-444-3134 or visit Reelcraft at www.reelcraft.com.