Tweco VELOCITY2 MIG Consumables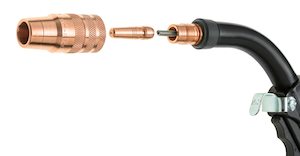 Tweco, an ESAB brand, has introduced the Tweco VELOCITY2 series of MIG consumables for its Spray Master and Tweco Classic Number Series MIG guns. The heavy-duty nozzle uses a nozzle insert that is "keyed" into place and over-molded with a high-temperature silicone compound, essentially producing a single part from two pieces; a copper shell crimped over the insert creates the final nozzle.
The conductor tube has three enhancements, starting with producing it from a single piece of copper with machined threads to securely hold the contact tip and nozzle in place. An O-ring prevents gas leakage in the event of a downstream obstruction, while adding a silicone sleeve over the copper tube minimizes radiant heat and improves impact resistance.
"The VELOCITY2 enhancements deliver unmatched performance through a more robust design, providing less downtime and more weld time," says Jeff Henderson, Global Business Manager for Torches and Exothermic Cutting Systems, ESAB. "VELOCITY2 directly addresses heat-related issues by reducing consumable count, improving thermal conductivity and lowering operating temperature. As a result, updated VELOCITY2 consumables stay cooler, last longer, produce a more stable weld puddle and improve overall productivity."
VELOCITY2 consumables feature threadless, "drop-in" style contact tips and integrate the contact tip seating area directly into the conductor tube. With medium- and heavy-duty VELOCITY2 consumables, the shielding gas flows from the conductor tube through four ports machined into the base of the contact tip. This simplified design eliminates the gas diffuser and enables the shielding gas to keep the tip up to 40 percent cooler.
By running cooler, VELOCITY2 MIG consumables improve parts life by up to 500 percent or more in gas shielded Flux-Cored, spray transfer and pulsed spray transfer applications. In short circuit MIG applications, VELOCITY2 consumables typically last two to three times longer than conventional consumables.
A cooler tip also reduces the ability for spatter to stick. The tip needs less cleaning, and any spatter that adheres is easier to remove. Further, spatter generally collects on one part, the nozzle, as opposed to three parts on conventional MIG front ends.
"The drop-in style tip also eliminates the hassle associated with burn backs. There's no need to use vice-grips or welpers when the electrode fuses inside the tip," adds Henderson.
Tweco MIG Guns
The Tweco Classic Numbered Series is an enhancement of the legendary Tweco Number Series, perhaps most popular air-cooled MIG guns in the world since their introduction more than 40 years ago. Many operators prefer the paddle-shaped Tweco Classic handle because it can reduce hand stress in applications where the operators desire more side-to-side gun manipulation. For operators who prefer a narrower, rounded handle shape or a water-cooled gun option, Tweco offers the proven Spray Master Series.
ESAB Welding & Cutting Products, established in 1904, is a recognized leader in the welding and cutting industry. From time-honored processes in welding and cutting to revolutionary technologies in mechanized cutting and automation, ESAB's welding filler metals, equipment, and accessories bring solutions to customers around the globe. For more information about ESAB and its leading brands, visit www.esab.com or call 1-800-ESAB-123.