iDTRONIC I-POLL 2.0 Multifunctional Data Collector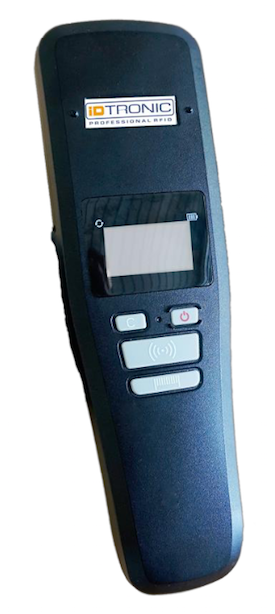 The multifunctional I-POLL2.0 Data Collector is a modern device for capturing your data in a smart way.
It can be used, for example, to link important data for patient management, pallet management, document management or article assignments. Its 1.3" Blue OLED display is easy to read under changing light conditions thanks to its high contrast.
The device is truly lightweight at only 246 g (including battery and hand strap) and is easily operated with one hand. The keys are easy to reach, and the sizes of the buttons are tailored to each button's specific application.
Thanks to robust internal memory, the device may be used for up to 1,000 data sets.
Thanks to its IP68 protection rating, the device is resistant to dust and water. It withstands drop heights of up to 1.3 meters — even on hard surfaces. Precipitation-related weather conditions have no effect to the device. It works reliably — even under fluctuating temperature conditions from -10 °C to 50 °C. It is, therefore, ideally suited to outdoor use.
The internal 3.3 mAh lithium-ion polymer battery allows up to 10 hours of use — easily lasting an entire working day. The battery level can be seen at any time by the LED indicator on the front of the display.
It has an RFID UHF Long Reader with a read range of up to 4 meters and works in large warehouse environments, reliably capturing data. The integrated 1D / 2D barcode reader is ideally suited for the use of IoT and Industry 4.0 applications.
Flexible communication options via BLUETOOTH v4.1 or USB & Magconn provide convenient, real-time communication for many scanning solutions with one host device. The I-POLL2.0 supports a wide range of operating systems such as Android, iOS / MAC or Windows.
A range of useful accessories such as desktop cradles, hand straps, and USB dongles complete the range of this smart industrial device.