Rex-Cut Abrasives ADVANTAGE Ceramic Grinding Discs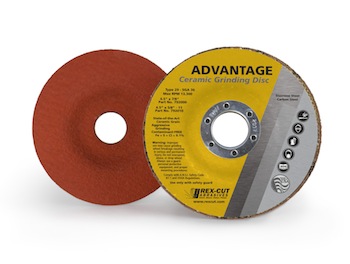 Rex-Cut Abrasives, a 100% employee owned abrasive product manufacturer, today announced the launch of the latest in ceramic grinding power, ADVANTAGE. As metalworking industries call for faster and safer grinding options, this premium Type 29 disc is engineered to meet this need.
ADVANTAGE is 100% more aggressive than a standard aluminum oxide grinding wheel and 70% lighter than a conventional grinding wheel.
"The ultra-lightweight construction reduces vibration and operator fatigue," stated Bob Costa, President of Rex-Cut Abrasives. "Supplying premium products that are safe and enhance the grinding experience is our top priority and ADVANTAGE certainly fulfills these objectives."
The state-of-the-art ceramic grain combined with the proprietary backing creates a disc with the toughness of a grinding wheel and the rapid material removal of a resin fiber disc. The ergonomic modified Type 29 shape provides greater disc contact on the work surface to improve metal removal speed.

ADVANTAGE is contaminant-free Fe + S + Cl < 0.1% and is engineered for stainless steel and carbon steel. This disc excels in weld bead removal, surface grinding, deburring, chamfering, and beveling. ADVANTAGE is available in both 4-1/2" and 5" discs sizes in 36 grit for fast stock removal, and 50 grit for a more refined surface finish.
For more information, visit www.rexcut.com/advantage or email products@rexcut.com