Simpson Strong-Tie Hinged MMHC Connector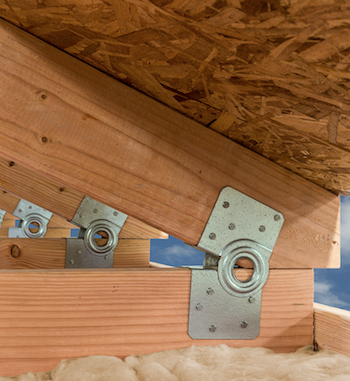 Innovative Hinged Roof Connector from Simpson Strong-Tie Featured in New Modular Building Products Catalog
A new hinged roof connector by Simpson Strong-Tie makes it easier for modular builders to construct stick-frame roofs in the factory that will fold flat during shipping. Accompanying the launch of this new product, Simpson Strong-Tie has also released its new Connectors & Fasteners for Modular Building catalog.
The patent-pending MMHC connector features an innovative hinge that rotates easily from open position to folded. It nails in place for easy installation. This connector has been tested and load rated in multiple directions. An offset nail pattern allows for installation on both sides of the roof rafter assembly.
"We created this new hinged connector to give modular builders more choices in how they build their roofs. Now, they can create custom rooflines with stick framing that will fold flat for shipping. This option can lower cost, reduce coordination with vendors and increase their schedule flexibility," said Sam Hensen, vice president and general manager for Connectors.
The new Modular Building catalog includes Simpson Strong-Tie connectors and fasteners that are ideally suited for factory-built structures. It is available on the website at go.strongtie.com/modularbuilding.
"We have been selling connectors and fasteners to modular building customers for years," said Hensen, "but we think this industry is so important and growing so fast that we wanted a catalog dedicated to connectors and fasteners that will help save time in manufacturing and make for easy installation on the jobsite. We believe this new product catalog will be a handy resource for modular builders."
For more information about the new MMHC roof connector and all the other products and resources that Simpson Strong-Tie offers for modular construction, visit go.strongtie.com/modularbuilding.