Rockwell RK4248K Vibrafree Five Inch Random Orbit Sander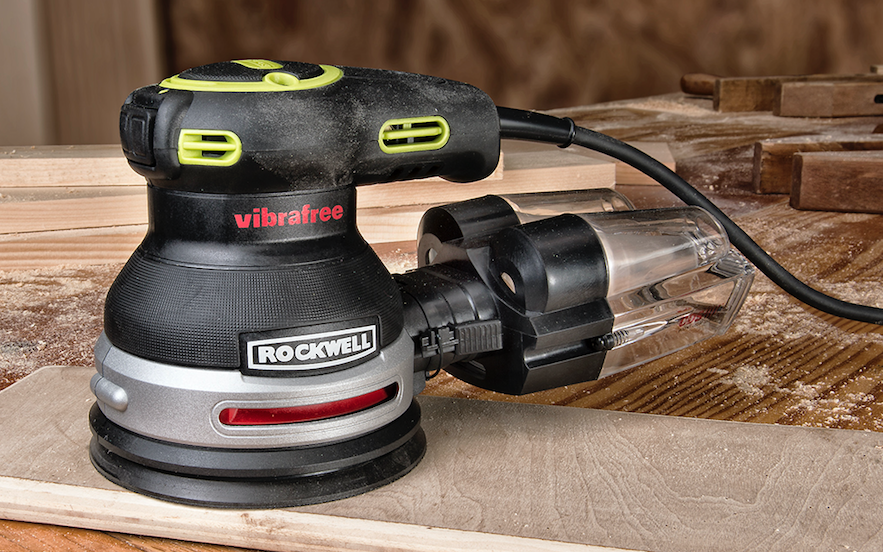 The new Rockwell 5 inch Random Orbit Sander with Vibrafree technology makes a huge difference when it comes to reducing the sander's vibration. In fact, Rockwell claims that the Vibrafree sander has 50 percent less vibration than the top leading brands.
In independent lab tests, the Rockwell random orbit sander not only had less vibration, but it outperformed the majors with a 50 percent greater dust removal rate, leading to more productivity.
It was 35 years ago, in 1982, when the first random orbit sander was first introduced. It was a notable year, because the Commodore 64 8-bit home computer also debuted and Michael Jackson's Thriller album became one of the bestselling albums of all time.
The random orbit sander was a welcome addition to the workshop. Its speed and aggressive action was like a belt sander's, but with its sanding disc moving in small ellipses, it had the ability to produce a smooth, swirl-free finishes.
Unlike conventional random orbit sanders with a single sanding disc, Rockwell's Vibrafree has two discs: an inner and outer disc that move in opposite directions of one another to reduce vibration. Vibration is redirected into sanding, not the operator's hand. As a result, the sander achieves twice the removal rate with half the vibration for greater productivity.
The Rockwell sander features a bag-less, filter-less Cyclonic Dust/Air Separator system known as CDS™. This advanced cyclonic air flow design separates dust from the air, while maintaining constant suction. The cyclonic action won't clog during collection and captures up to 50 percent more dust than competitive sanders. A push-button releases the dust box for easy emptying.
The variable-speed (6000 to 13500 opm) 5-inch diameter random orbit sander is powered by a 3.3 amp motor that delivers 13500 orbits-per-minute (no load speed) for fast and smooth material removal. Random 1/8- in. orbital action helps achieve smooth, swirl-free finishes.
The 3.3 lb. sander's ergonomically designed, elongated palm grip handle features a comfortable rubber overmold grip for optimum balance and control. Its on/off rocker switch is conveniently located and sealed for long life.
The sander's 5-in.diameter, aluminum base assures exact flatness and durability. The sanding pads are detachable and replaceable. They accept proprietary Rockwell hook and loop sanding discs in two pieces (for inner and outer discs). Included with the sander and the dust box is a 15-pc. accessory set, including 5 pcs. each of 60,120 and180 grit hook- and- loop sandpaper. Other features include a 7-ft. power cord and carrying bag.