Simplex HCC-Series Cable Cutters and CC-Series Chain Cutters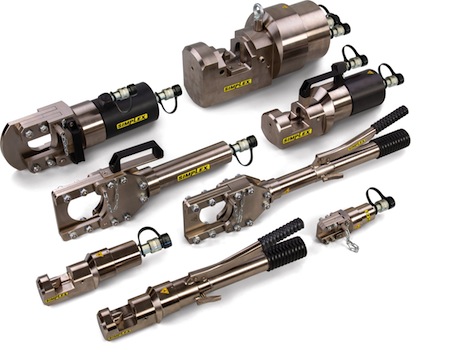 Simplex announces the new HCC-Series Cable Cutters and CC-Series Chain Cutters. The two new product lines leverage over a century of Simplex hydraulic experience and know-how into a range of powerful, portable cutters for cable and wire rope, or chain and metal bar stock.
A variety of models are available in each product series – from robust handheld cutters with integrated pumps to powerful, portable models with double-acting cylinders for cutting of heavier materials.
HCC-Series Cable Cutters
The HCC-Series consists of ten models in three tool configurations designed to quickly, cleanly and reliably cut cable and wire rope from 0.71-in. to 4.72-in. diameter, including lead, underground and telephone-grade cable, plus steel and aluminum wire rope.
Capacity in the models ranges from 7.9 to 43.8 tons with a maximum pressure of 10,150 psi. There's a model for every job, offering advanced performance and productivity features such as spring-return cylinders or the increased cutting control of a double-acting cylinder on the 43.8 ton HCCD model. Two handheld HCCP models feature integrated pumps requiring no external pump or power supply.
CC-Series Chain Cutters
The CC-Series consists of six models in three tool configurations ranging from the powerful handheld CCP model with integrated pump requiring no external power, to CCS and CCD models powered by an external pump for faster cutting on tougher jobs.
The CC-Series cutters easily and safely cut through chain and metal bar from 0.75-in to 1.94-in. with capacity ranging from 15 to 125 tons at up to 10,125 psi. Like the HCC-Series Cutters, the CC-Series offers models with the right features for the job including integrated pumps, spring-return cylinders, or powerful double-acting cylinders.
"With our legacy of reliable, industrial-grade cylinders and pumps, the new range of powerful hydraulic cable and chain cutting tools compatible with Simplex hydraulic pumps and components is a natural evolution.", said Tim Kellagher, Product Marketing Manager. "Even in the toughest applications and field conditions in the Marine, Rigging, Transportation, and Mining industries, customers can expect the highest levels of performance, rugged durability and power from these new lines of cutting tools."