Enerpac SL100 and SL200 Hydraulic Gantries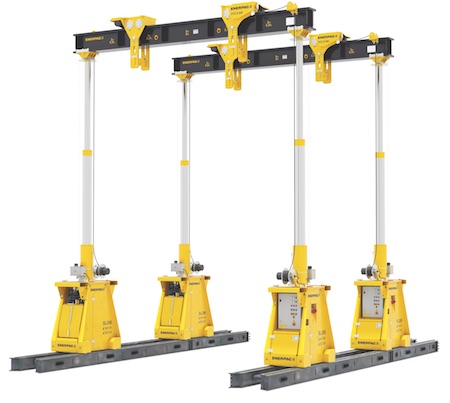 Enerpac reveals its latest addition to their hydraulic gantry product line. The new SL100 and SL200 Hydraulic Gantries offer customers a higher capacity gantry on a narrow two-foot track gage.
"The new models were designed based on the significant growth seen in relevant markets and the need for greater lifting capacities for new applications," said Peter Crisci, Product Line Director for Enerpac's Heavy Lifting Technology product line. "We continue to evolve and provide new solutions for our customers to meet their needs for the diverse and changing applications."
Enerpac's Super Lift gantries are ideal for manufacturing, rail and general material handling markets. Typical applications involve local transportation and installation of presses, machines, rail cars, and compressors. Hydraulic gantries are easy to mobilize and demobilize with high-lifting capacity and accurate load positioning. They also have the ability to operate in confined or limited-access spaces.
SL100 and SL200 Hydraulic Gantry key features include:
Self-contained hydraulics
Range from 100 to 200 ton
Self-propelled wheels
2 stage lift cylinders
Intellilift synchronized control system
Lifting height up to 15ft (SL100) and 22ft (SL200)
ASME B30.1 compliant

Additional components and accessories are available such as header beams, lifting anchors, side shifts and skid tracks. There are also tarpaulin covers, transport frames for side shift units, slings and shackles.
The SL100 and SL200 Hydraulic Gantries include the Intellilift control system, providing wireless control, unrestricted operator position, and automatic synchronization for lifting/lowering and traveling.
All of Enerpac's gantries are tested at maximum capacity at maximum extension and tested under witness of Lloyd's Register. "Safety is one of our top priorities, said Crisci. "We strive to meet or exceed the highest of standards for our products and solutions."
For more information about Enerpac, visit www.enerpac.com.