Enerpac LG-Series Lock-Grip Pullers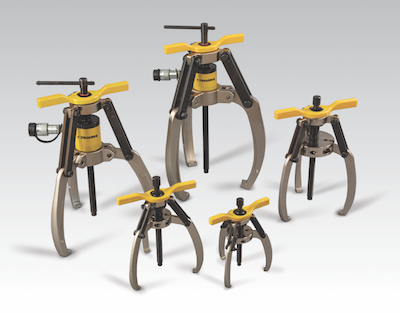 Enerpac, an international market leader in high-pressure hydraulics, announces the availability of its LG-Series Lock-Grip Pullers for a simple, safe and cost-effective way to remove shaft-mounted parts. Both mechanical and hydraulic pullers are offered to suit application requirements.
Enerpac's LGM-Series Mechanical Lock-Grip Pullers are an ideal solution for pulling small- to medium-sized wheels, sprockets, bearings and other similar shaft-mounted parts.
The puller's self-centering closing system allows all jaws to move simultaneously, making it easy for a single operator to mount the puller and to perform the application.
The LGH-Series Hydraulic Lock-Grip Pullers provide the same safety and ease of use as their mechanical counterparts, but the pulling force is applied by a standard 10,000 psi hydraulic cylinder. These pullers can apply up to 64 tons of force and are perfect for removing larger shaft-mounted objects up to 26 inches in diameter.
Other features include:
Convenient adjustment handle simplifies the position of jaws on application and increases speed of operation
Locking mechanism helps prevent jaws from slipping off application while pulling
Greater spreading width on jaws enables use on thicker objects
The LGH-Series Pullers are also available as master sets: complete kits which include accessories designed for pulling limited access applications.
"Enerpac offers a complete line of pullers with the widest range of sizes, capacities and styles," said Kurt Huber, Senior Global Product Manager at Enerpac. "All are made of high-strength steel alloys that are dependable, providing years of trouble-free operation, even in the harshest environments."
For more information about Enerpac's LG-Series Lock-Grip Pullers, visit www.enerpac.com.