Hangers: Simpson Adds Three High-Capacity Truss Hangers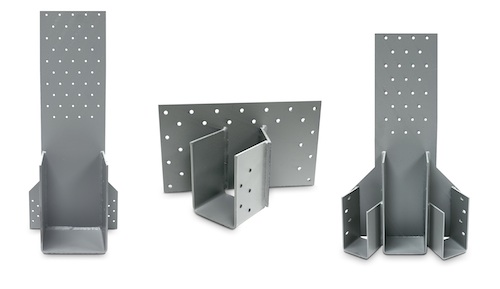 By customer request, Simpson Strong-Tie has added three new high-capacity truss hangers to its connector product line. The HTHGQ, HTHMQ and HHSUQ truss hangers are no longer custom orders, but now part of the standard catalog offering.
The HTHGQ heavy girder truss hanger is a high-load capacity girder hanger designed to carry multi-ply trusses (up to five plies) or structural composite lumber. Prior to the HTHGQ, such extreme loads required a bolted connection.
The HTHMQ heavy multiple truss hanger is a versatile, high-capacity truss hanger designed to accommodate various angles, member sizes and number of plies. This truss hanger is able to carry two or three trusses to enable a greater range of hip-jack configurations. The HTHMQ also facilitates single hip-jack combinations and two hip no-jack combinations.
The HHSUQ heavy severe-skew truss hanger is a high-load, face-mount, truss-to-truss and structural composite lumber hanger designed to accommodate severe skews. The 45°– 84° skew range for hip trusses enables greater installation applications.
Each of these welded hangers install easily and quickly with Simpson Strong-Tie Strong-Drive SDS structural wood screws. For more information about the new truss hangers, visit www.strongtie.com.